In HotH you will need to specify the attachments folder. To do this, follow the instructions below:
Log into the WebServer client as a supervisor user.
Navigate to Settings -> WebServer, and scroll down to the Advanced Settings section.
Set the Attachments Folder field to be the UNC path of the attachments folder that you are going to use. If users are going to be accessing HotH via the Windows UI, you will need to share the "C:\supportdesk\attachments" folder on the server and enter the share name here. Alternatively, if users are all going to be using the WebServer interface, you can enter the Attachments Path as a local path name (as per screenshot below).

Once this is done click on OK at the bottom and then log out of HotH.
Recycle the HotH Application Pool and then log into HotH.
Once logged in to the web interface of HotH, the following two options circled below should be ticked. They can be found under the menu items "Settings" – "WebServer".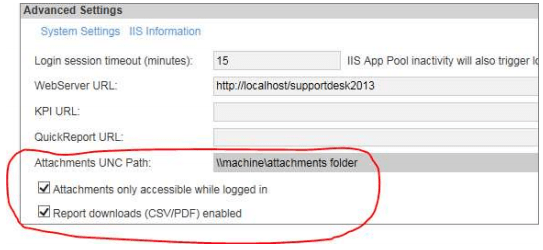 ---
Still haven't found what you're looking for? Contact documentation@houseonthehill.com