Before starting with HotH, it needs to be established which processes you are intending to implement; this will determine the Folders to be created.
Go to the Settings Cog

> Folder to view the Folder Summary in your HotH system.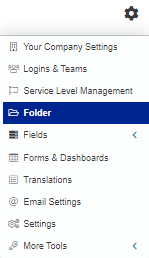 The main HotH processes are Ticket Management, Request Fulfilment, Problem Management, Change Management, Release Management and Operations Management.
It is not always necessary to create separate folders for each individual process. For example, Ticket Management and Request Fulfilment can be combined for simplicity of end-user ticket logging. You may also wish to include Release Management within your Change Management process.
Also, if your organisation or business has multiple departments that have to be kept separate and operate in separate ways, then different folders can be created for ticket logging for each of these departments.
Each folder can be set up with their own Process Type, Data Dictionary, Prefix, New Ticket Defaults, Forms, Dashboards etc…

Learn more about this topic by visiting the Folders page.
---
Still haven't found what you're looking for? Contact documentation@houseonthehill.com
Previous – Company ConfigurationNext – Organisations, Customers and Contacts