Once a ticket has been progressed and a resolution has been found, you will be able to close the ticket using the Status field. Only tickets with a Closed/Resolved status can be transferred to the archive and then subsequently deleted via the archive.
When viewing live tickets in the Summary screen;
Supervisors can:
Transfer closed tickets to the archive
Restore archived tickets to live
End-Users can if allowed:
View archived closed tickets
Click the links below to learn more information:
---
Closing Tickets
To close a ticket, set the Status field to Closed or Resolved from within a ticket: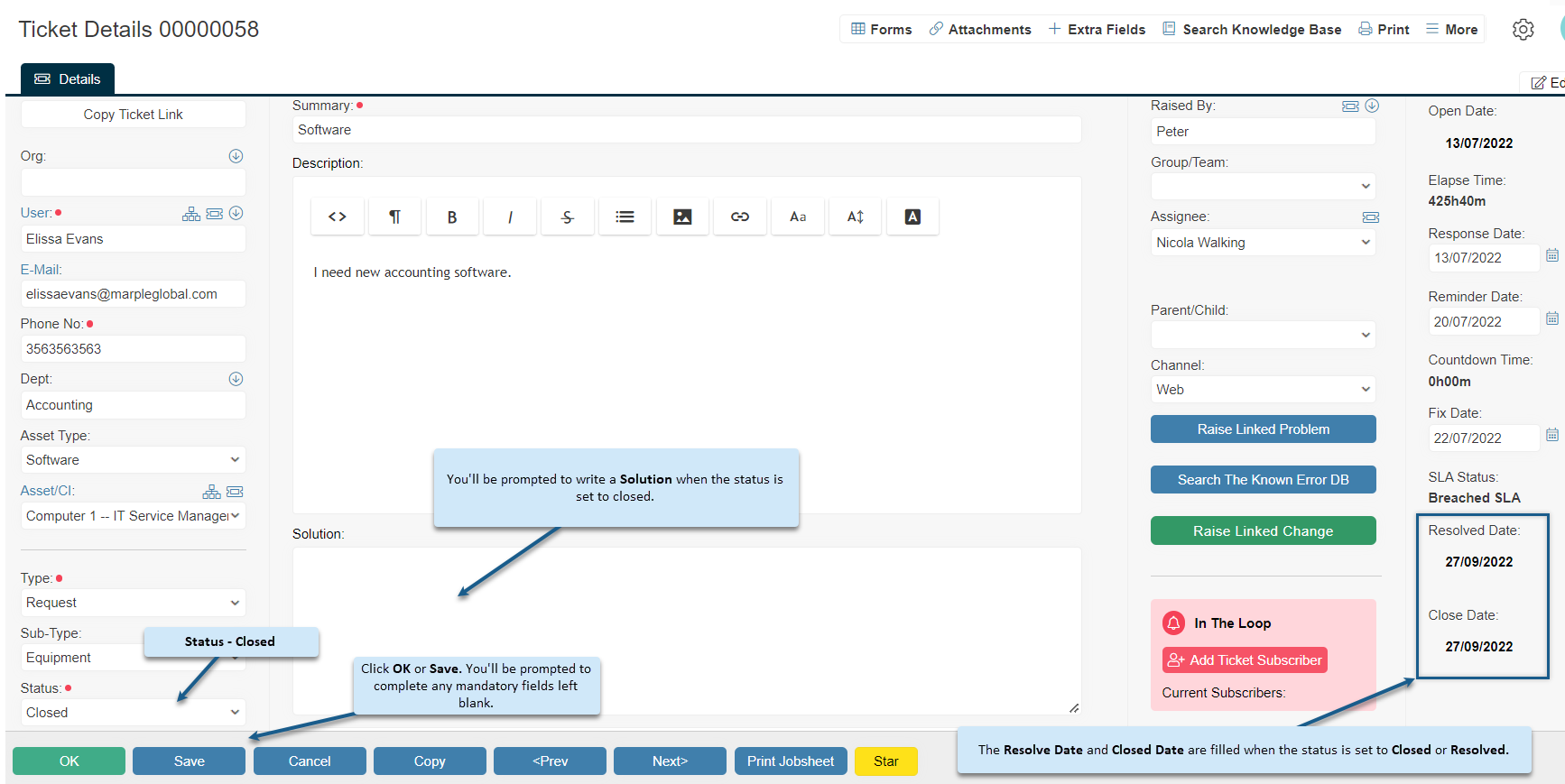 Click OK or Save to confirm your selection. If there are any mandatory fields not complete, the system will display a prompt for them to be completed.
Your system may be configured to trigger an email on the closure of the ticket. If the Pause before sending checkbox is selected in the email templates settings, then the email preview will be displayed when changing to the status:
---
Bulk Updating Tickets
If there are multiple open tickets which need to marked as closed, then it possible to bulk update the tickets Close Date field. These closed tickets can then be moved to the archive.
Firstly, in the ticket summary, view only the tickets that need to be updated.
Select Summary Options > Bulk Update:

Displayed will be the Bulk Update window where updating the Close Date field populates the tickets with a close date, allowing them to be archived off:

Click OK to save and return.
The Close Date field will be populated for the tickets that were in view. They will also have a Closed/Resolved status.
---
Archiving Closed Tickets
Only Closed Tickets in the current view are transferred to the archive.
Use the Advanced Search menu to filter Closed/Resolved tickets that require archiving:

For example, using Date Range, you could archive last month's closed tickets: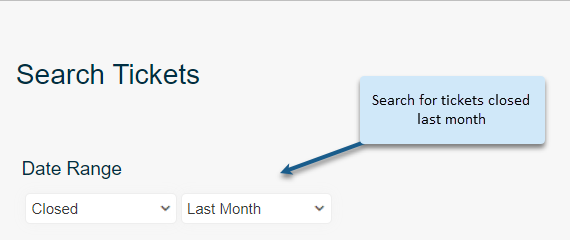 Or select Closed from the summary view to see all closed tickets.
Then, when viewing only the tickets you would like archive, navigate to Summary Options > Archive Closed: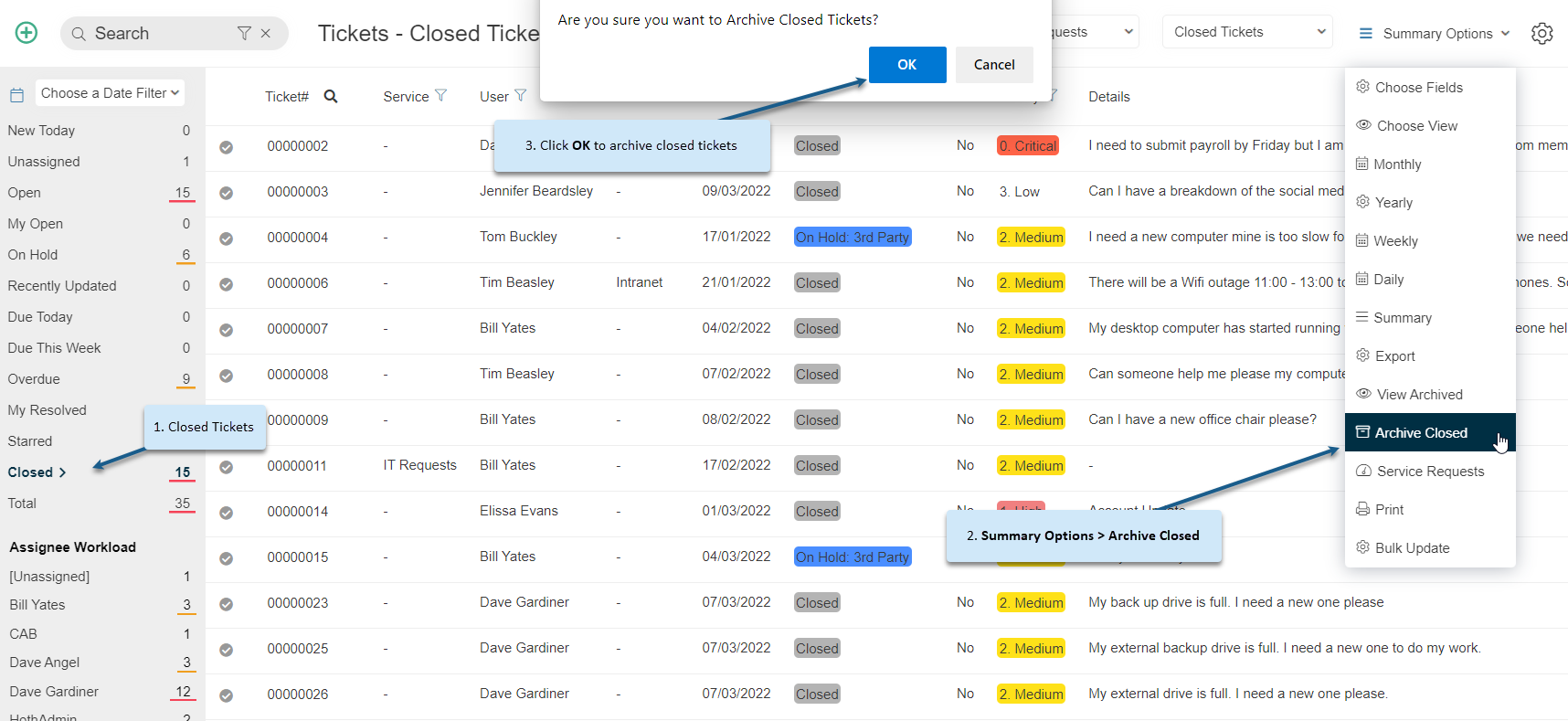 Click OK from the alert prompt to archive the Closed/Resolved tickets in view.
If you are using Folders to compartmentalise your tickets, then an archive is maintained for each ticket Folder. Tickets are archived from only the current live Folder to its associated archive Folder.
---
Deleting Archived Tickets
Supervisors can delete archived tickets.
When in the archive summary and viewing only the tickets to delete, select Summary Options > Delete All in View:

Click OK on the prompt.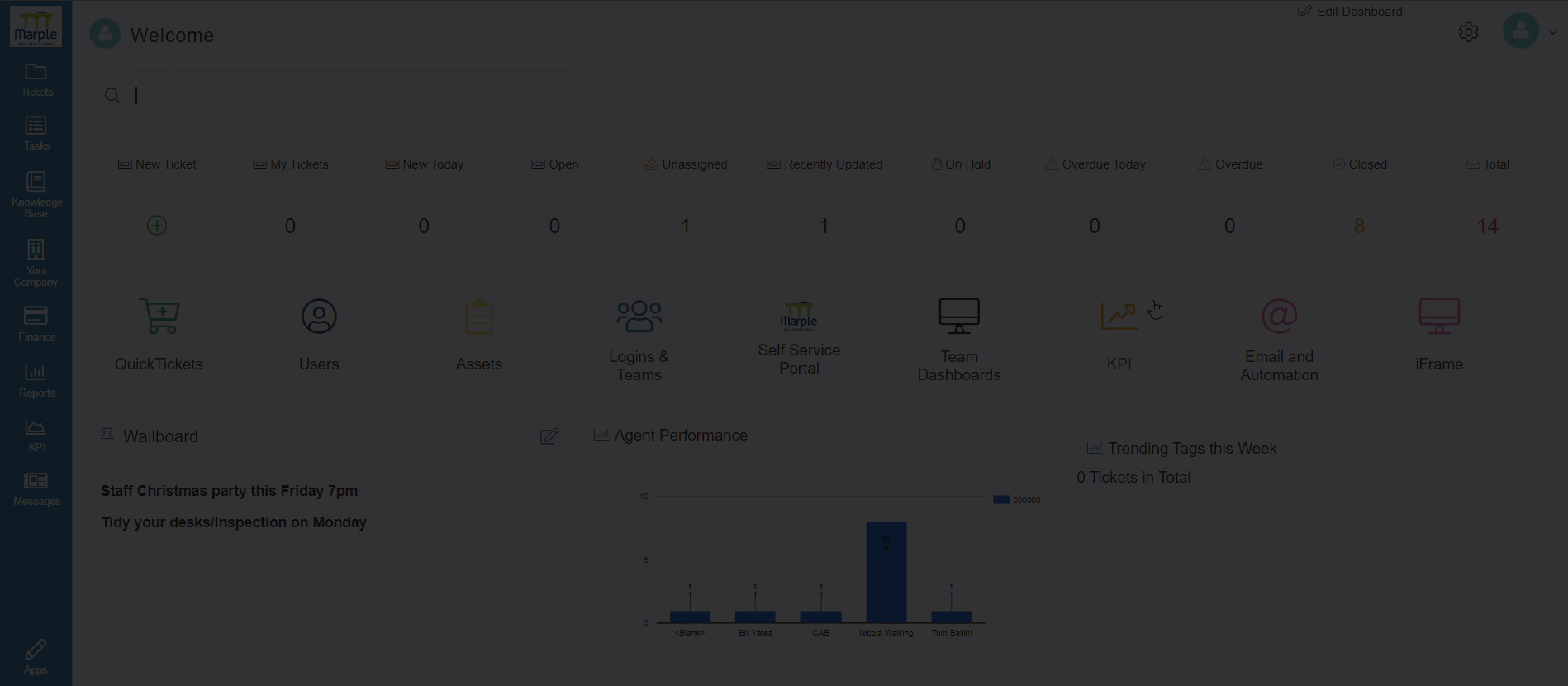 ---
Restoring Archived Tickets
Supervisors can restore closed tickets from archive to live.
Navigate to the archive via Summary Options > View Archived:

Make sure your view contains those tickets you wish to restore and then go to Summary Options > Restore Closed:

Click OK on the prompt.
---
Additional Options When Closing Tickets
There are additional options for what happens to a ticket when it closes that can be enabled under Settings Cog>Your Company Settings>On Closing Ticket.
Use the following two fields to specify actions when a ticket is closed:

---
Still haven't found what you're looking for? Contact documentation@houseonthehill.com