HotH Document Manager is an optional add on that allows the storage, revision control and simple integration of documents into other solutions such as HotH Case Management.
Existing document records are shown in card view, with key information such as document name and revision count shown on the card.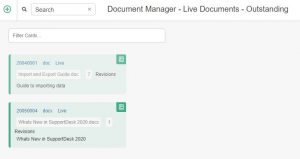 New documents can be uploaded and information recorded against that document.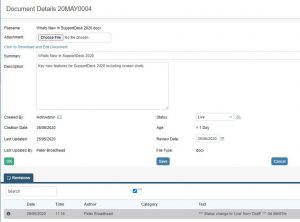 Once the base document has been stored it can be downloaded to edit.


And then the new version uploaded back to the ticket using the "Choose File" option. The system checks that the file name matches the original.
The system will automatically copy the previous version of the document to a "Revision note" on the ticket and the latest version is held against the "Document" section of the record.


Following this process, the document can be repeatedly downloaded, amended and uploaded back to the ticket and any number of revisions are date/time stamped and stored. Additional notes can be added to the Revision record to identify the changes. The Author of the revisions is automatically recorded.
Integration with Case Management
Case records can be linked to records in the Document Manager folder.


And once linked the document associated with the document record can be copied to the Case.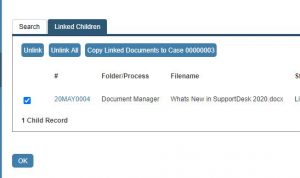 This process provides a simple way of storing and managing oft requested documents within HotH and then making them available to be added to Case records.
---
Still haven't found what you're looking for? Contact documentation@houseonthehill.com