Enterprise Service Management software:
Stay Connected With SupportDesk!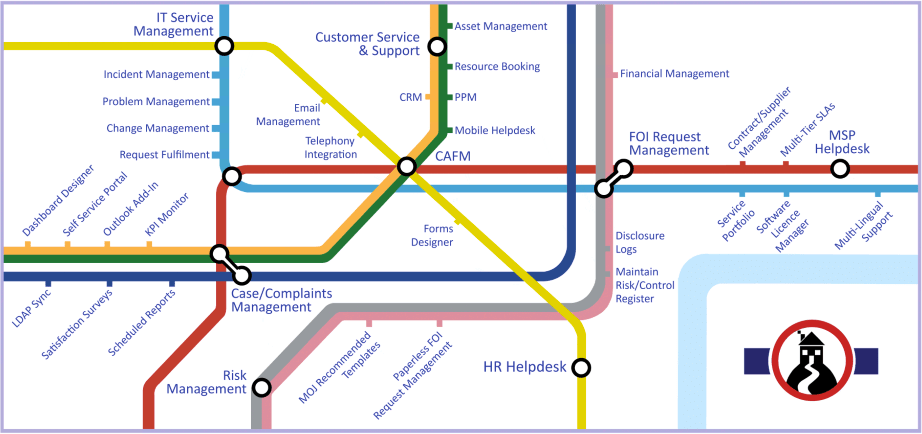 SupportDesk service management software from House-on-the-Hill is used by organisations across the globe for the pro-active management of services and support across multiple business areas, time zones and languages. Our software is unique in its flexibility, and is available in a variety of specialised, pre-configured solutions. These include:
SupportDesk solutions are available as complete out-of-the box configurations and can be utilised as individual service management tools within organisations of all sizes and sectors. Now, more and more organisations are discovering the value of connecting solutions, to produce a complete shared service centre, with one tool. This encourages collaboration and interconnectivity across multiple business areas, sites, time zones and languages.
Read how Nando's Restaurants utilise their SupportDesk ITSM + CAFM service management system for IT Service Management and Computer Aided Facilities Management.
What are the advantages of enterprise service management?
User familiarity: If helpdesk agents multi-task or hot-desk between departments and roles, then opting for a tool with a familiar user experience is a huge benefit, reducing user errors and requirements for user training. This benefit is also true for Customers and End-Users, as logging tickets with multiple departments can be a straight-forward experience via a single end-user self-service portal: for example, a Customer can log a Facilities Management request, an HR ticket and an IT support issue via the same portal.
Cost: Extending your service desk tool into multiple business areas has proved more financially viable for organisations than implementing unique tools in different areas. Costs for training and on-going support and maintenance are major factors in the financial advantages of an enterprise service management solution.
Interconnectivity: Using the same software tool across multiple business areas means you can be sure that systems have the functionality to talk to one another. Sharing internal data between systems and departments therefore becomes less of a chore.
Supplier Relationship: Building a relationship with your supplier gives you the security that knowledgeable consultants will be there to assist you every step of the way to setting up your enterprise system. If you are 'bolting-on' an additional system to an existing one, being able to speak to the same consultant that performed your initial setup (who is therefore familiar with how your system functions within your business) will streamline the implementation process.
Read how 2020 Mobile extended their SupportDesk ITSM system to additional business areas for case management.
If you would like to learn more about the options for Enterprise Service Management with SupportDesk, get in touch and speak to a House-on-the-Hill consultant today.
Check us out on Twitter!