Read about some of the more advanced features that are incorporated in tickets.
---
Coverage and Expertise for Contractor Selection
This section assists in the selection of the Contractor/Assignee based on the Postcode of the Customer and/or the Sub-Type of the ticket.
Contractor Setup
To filter Contractors, the Contractor (Login) record needs to record the Expertise and Coverage on the Info tab.
The Expertise field is a drop down of the ticket Sub-Types.
Coverage should be London for London postcodes, or the start of the postcode for other areas. If the Contractor coverage is nationwide then leave the Coverage field empty. You can concatenate multiple areas with vertical bar, for example SK|M for Stockport and Manchester.
Login info tab fields:


Selecting a Contractor
The Contractor/Assignee Dropdown shows 'Contractor [Coverage,Expertise]'.
Contractor/Assignee Dropdown: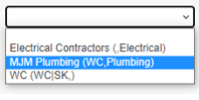 When a Property is selected, then the Contractor/Assignee dropdown will only include those which have Coverage that tallies with the Property Postcode (or blank Coverage).
If a Sub-Type category is selected, then the Contractor/Assignee drop down will only include those with matching Expertise (or blank Expertise).
---
Linking Tickets
Link tickets together by selecting Search & Link from the More drop-down menu within the ticket details page: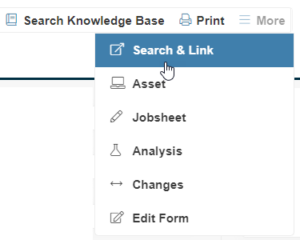 ---
Still haven't found what you're looking for? Contact documentation@houseonthehill.com