The Knowledge Base is an area of House-on-the-Hill in which problems along with their solutions, Frequently Asked Questions and their answers, plus associated keywords can be stored.
It can therefore speed up problem resolution, as it is possible to search the Knowledge Base when analysing issues to discover if the problem has been logged before, and if a solution or root cause has already been discovered.
Access the Knowledge Base summary by selecting the icon from the side-bar menu:

Click the links below to learn more information:
---
Creating Articles from the Knowledge Base Window
Clicking on the Knowledge Base link in the side-bar menu displays the list of existing Knowledge Base articles.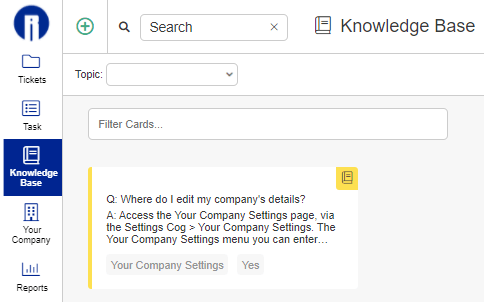 Knowledge Base entries can be viewed by clicking on them, or new entries can be created by clicking the Add

 button.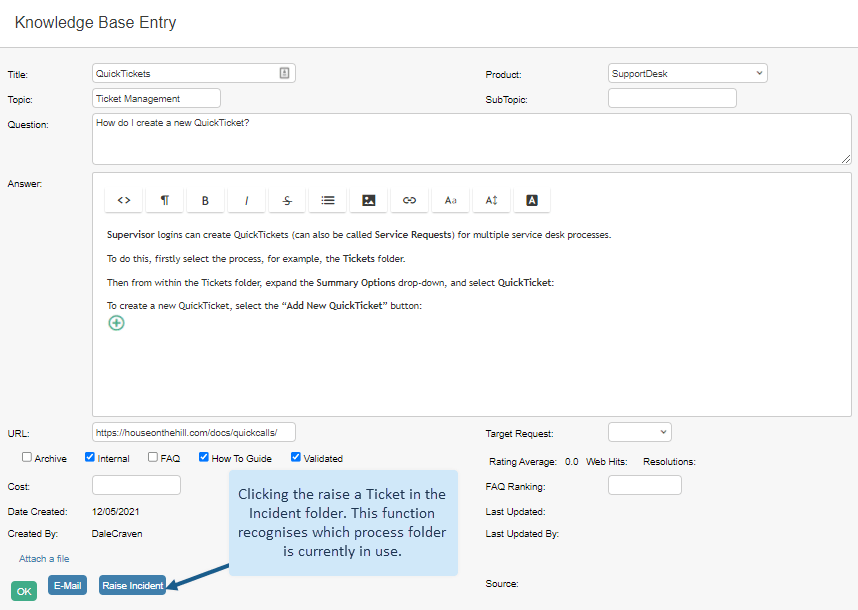 ---
Creating Articles from a Ticket
It is possible to create a Knowledge Base item directly from a HotH ticket. Selecting the Add to KBase box transfers the user to the Knowledge Management Entry form, with keyword, problem and solution text copied directly across.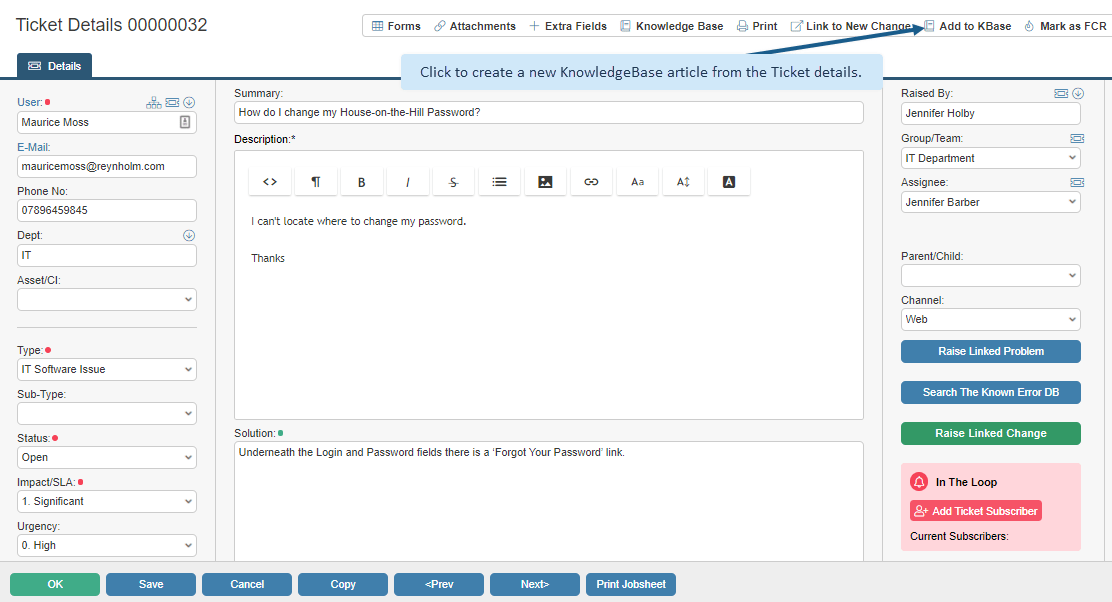 A Knowledge Base entry is then generated, with Keywords automatically entered based upon the Subject of the ticket. These can be added to and edited.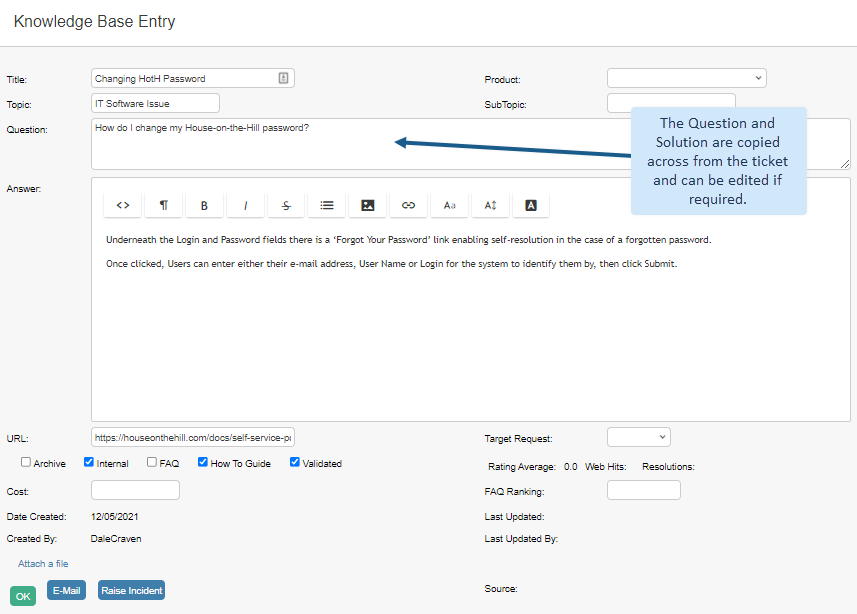 ---
Knowledge Base Article Form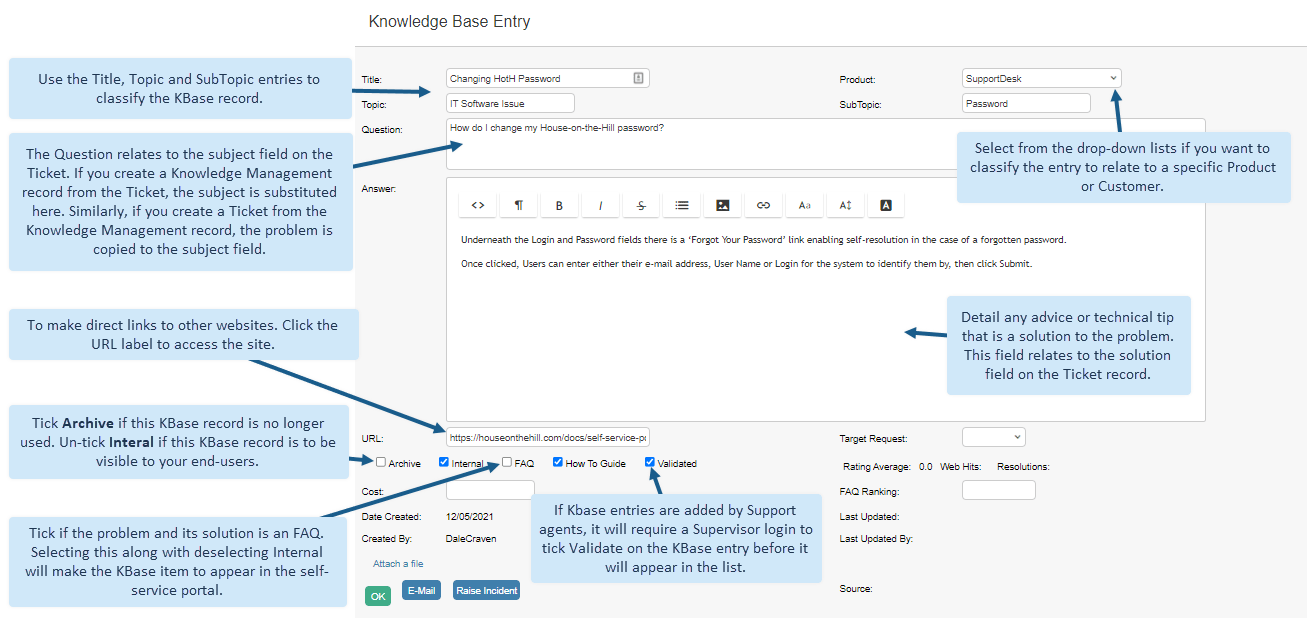 ---
Referencing the Knowledge Base
It is also possible to reference the Knowledge Base when interrogating a ticket.
Use the Knowledge Base link within the ticket window to list records that relate to the ticket's problem.

The Knowledge Base will automatically filter based upon keywords entered in the Subject field, and match them to those in existing Knowledge Base entries.
---
Still haven't found what you're looking for? Contact documentation@houseonthehill.com