QuickTickets (also known as QuickCalls or Service Requests) are ticket templates which are useful for logging frequent or repeat ticket types. Create QuickTicket templates with pre-populated data, or specific fields for accurate data capture. Use them to build up a portfolio of common tickets, providing swift ticket logging.
In conjunction with Forms, it is possible to associate forms with QuickTickets for logging specialist issues such as a 'New Starter' or 'Equipment Requests'.
Click the links below to learn more information:
---
Creating QuickTicket Templates
Supervisor logins can create QuickTickets (can also be called Service Requests) for multiple service desk processes.
To do this, firstly select the process from the drop-down in the toolbar, for example, the tickets folder: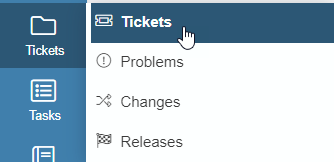 Then from within the tickets folder, expand the Summary Options drop-down, and select QuickTickets:

By selecting QuickTickets, you will be presented with a list of existing QuickTickets for that folder: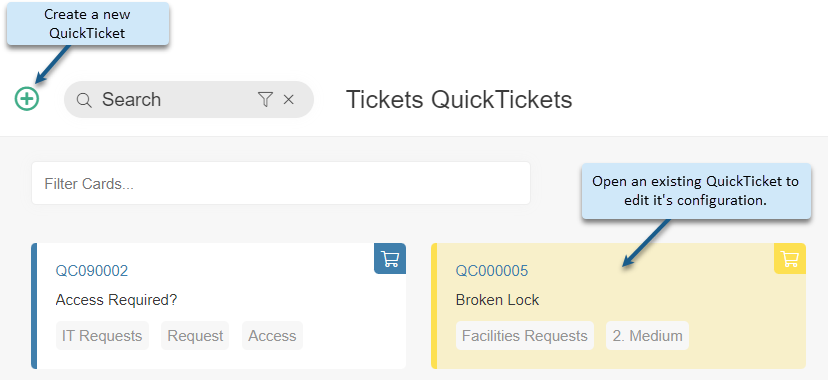 To create a new QuickTicket, click the Add

button.
A QuickTicket screen will appear, from which to build the template: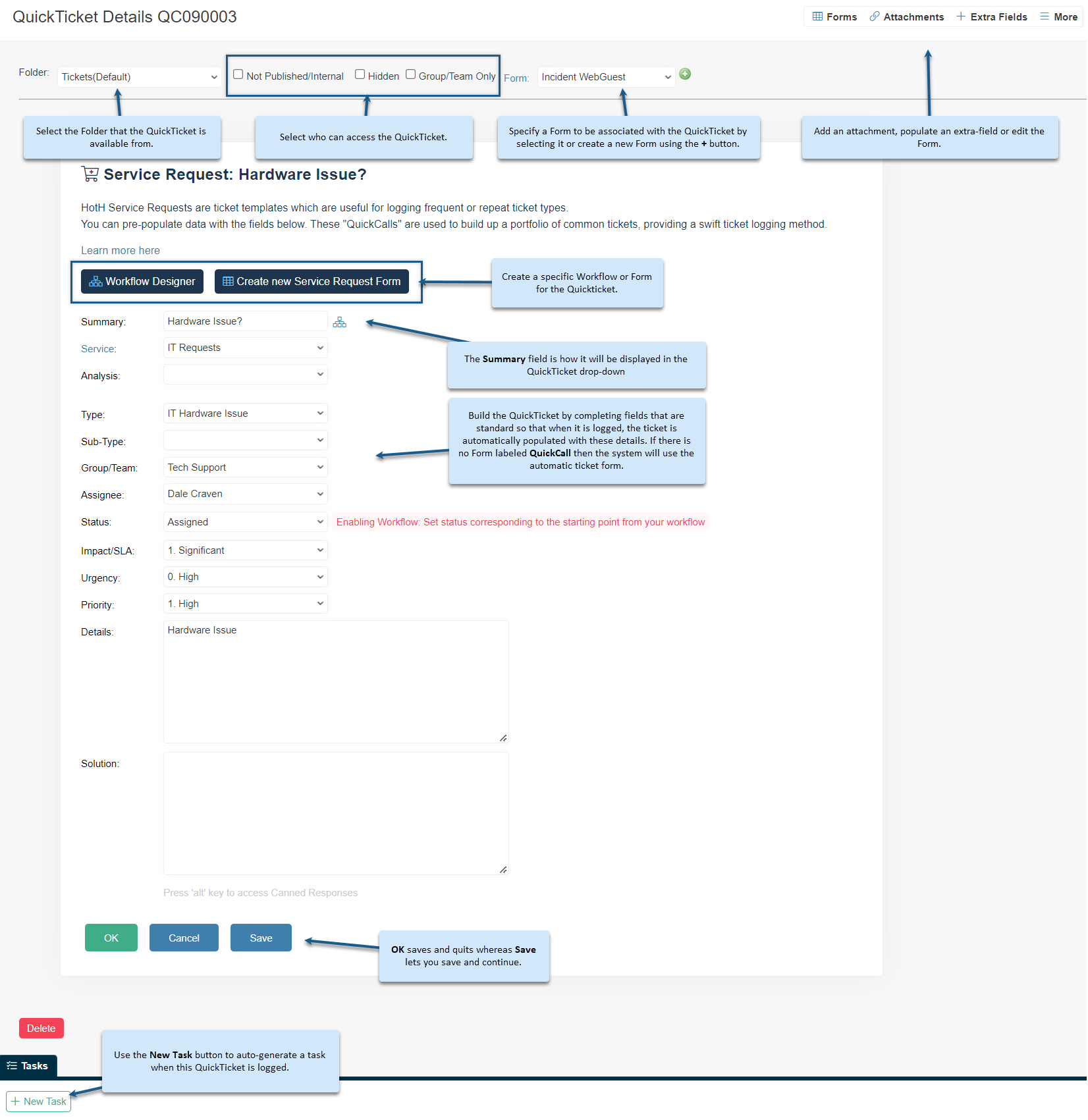 If there are already populated fields on the template when it is created, this means that there are New Ticket Defaults set on the Folder itself.
These New Ticket Defaults can be managed via the Settings Cog > Folders.
---
Deleting Tasks from QuickTickets
You can add Tasks to QuickTickets and they are created when the QuickTicket is logged. To delete the Tasks that have been added, on the Task you want to delete, select the Archive checkbox and click Save. The Delete button will then be displayed so that the Task can be deleted:

---
Logging QuickTickets by Service Desk Agents
Once QuickTickets have been created, Service Desk Agents and End-Users (provided the QuickTickets are not set to Internal) will then be able to log tickets quickly using the templates.
For Agents, QuickTickets can be accessed and logged in a variety of ways.
From the Home Screen Dashboard
Clicking your company logo in the top left of the dashboard will direct you back to the Home Screen. Click the "Edit Dashboard" button to customise the appearance of your dashboard.

Drag the "System:QuickCalls" widget to the dashboard frame from the Components preset list allowing Agents to select QuickTickets from the dashboard drop-down.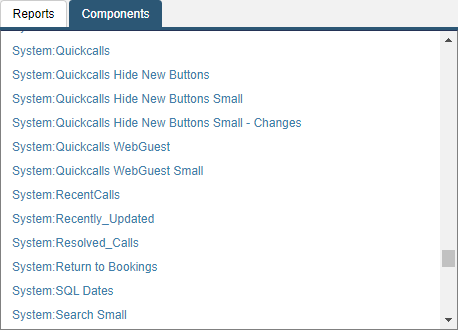 Agents will only be able to log QuickTickets that are associated with folders or groups/teams they have access to: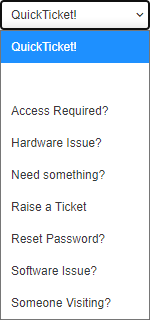 From Within the Folder
When a Service Desk Agent is logging a ticket within a specific Folder, the QuickTickets drop-down at the top of the Summary screen will display only QuickTickets that are associated with that Folder:

From Within a Ticket
If when logging a standard ticket, the Service Desk Agent realizes that a QuickTicket template is required, the icon next to the Details field can be clicked:

And this will then generate a drop-down of the available QuickTickets in that particular Folder: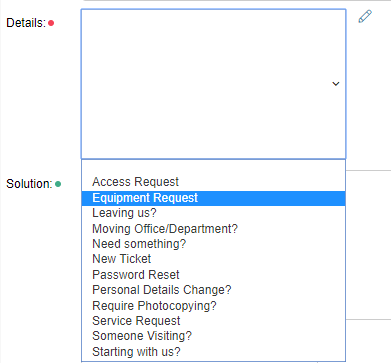 ---
Logging QuickTickets by End-Users
External QuickTickets can be displayed to End-Users via the Self-Service Portal. This is a useful way of offering multiple ticket types with unique forms in a list, so that End-Users simply need to pick the relevant ticket type in order to generate the correct ticket logging form: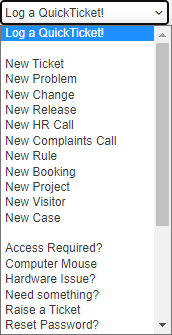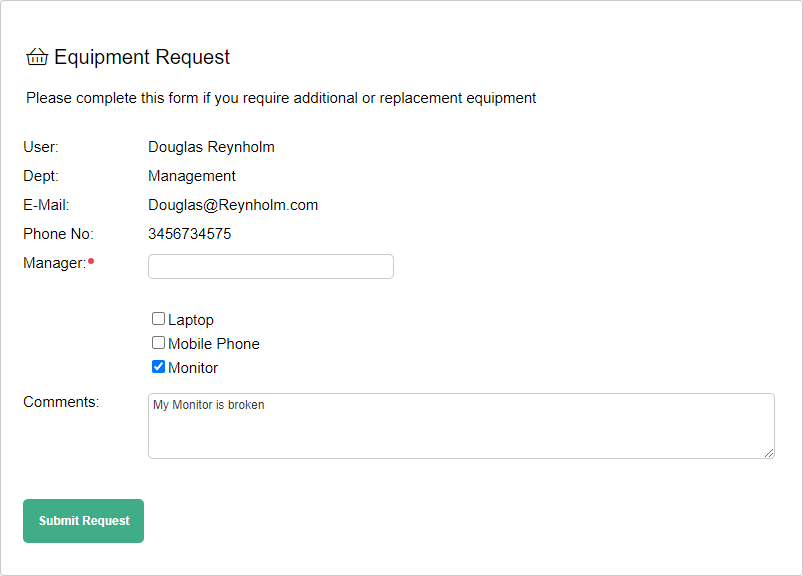 ---
Still haven't found what you're looking for? Contact documentation@houseonthehill.com