Helpdesk QuickTickets
Create re-usable template for frequent or repeat incidents and requests
You can use QuickTickets to build up a portfolio of common calls, providing a swift way of completing the ticket details. In conjunction with HouseForms, you can associate a Form with a QuickTickets for logging specialist issues, such as a 'New Starter' or Equipment Request'.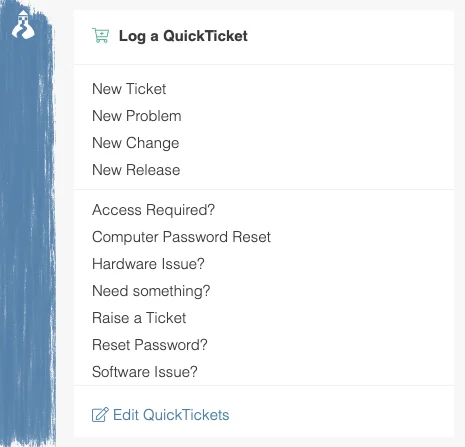 QuickTickets list
Build up your QuickTicket portfolio
The advantage of building up your helpdesk call template portfolio (QuickTickets list), is to enable service desk support agents to quickly and simply log common or repeat tickets. You can ensure that essential data is included on the ticket, such as the Priority of the call, SLAs, categorisations, and you can even pre-populate the subject field. This means that you can enter a long description of what the call is about, which can be submitted as it is, or helpdesk agents can edit the text if necessary.

Call Templates
Create call templates for individual service desk processes
QuickTickets Helpdesk call templates can also be created in House-on-the-Hill for individual service desk processes. It is possible to lock QuickTickets into specific processes, so that templates can be created in accordance with the requirements of the process. This is useful, as Incident Management, Request Fulfilment, Change Management, Problem Management etc. utilise different categorisations and workflows.

Key Features
Save time in the call logging process by pre-populating specific fields of common or repeating call types
Associate QuickTickets helpdesk call templates with individual service desk processes and restrict to specific folders
Ensure that essential data is captured
Create a list of QuickTickets for instant call creation