By default, all Tickets are logged in a single folder. You can set up other folders to store different types of Tickets separately (e.g. for Incident, Problem and Change.)
Creating the Ticket folder
First of all, you will need to set up the Ticket folder in your system. It is within this folder that all Ticket records will be logged and stored in order to give a holistic view of all diagnostic tasks, processes, follow-up and any associated documentation.
You may already have a custom Ticket folder as part of the shipped system which you can customise and alter to suit your needs, but if not, you will need to create your folder by going to Settings Cog

 > Folders and clicking Add New Folder. From here, you can name your folder (Ticket Management), set an Ticket Reference prefix (TM), and there is the option to add any folder descriptions that are required.
Then, within the Framework section of the folder, select the Process Type as Ticket Management, the Dictionary as Default.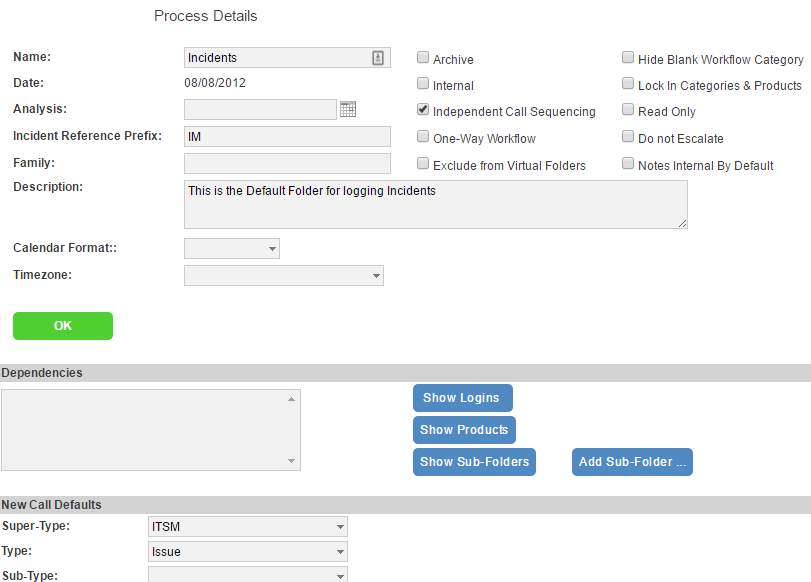 Then, input the folder Terminology. We suggest the use of the term Ticket.  There is also the option to set Public Terminology via the Folder setup. This is the terminology that will be seen by your end users and WebGuests.

You can edit the Framework for individual Folders, so that you could pivot the Calendar by Org, Customer, Asset & Login. It is possible to select different variables for that particular Folder, for example a different Dictionary or Dashboard.

There are a number of other field settings in the Folder setup; these can be configured further down the line.
Now that the core settings of the Ticket Management folder are set, you will be able to move on to setting your Customers, Contacts and Logins, and onto setting the fields on the Ticket logging screen. Now that the prefix is set within the folder, you will see that logging a record within the Ticket folder will generate a unique reference number for the record with the prefix of IM.