You can import existing data into your HotH System and export
your data to
a file from within HotH
.
When downloading data from any database software and populating HotH, the files to be imported must be flat files of comma-separated values (CSV).
Click the links below to learn more information:
---
Importing Data
From the Dashboard, go to Import CSV File from :
Settings Cog > More Tools > Import CSV File.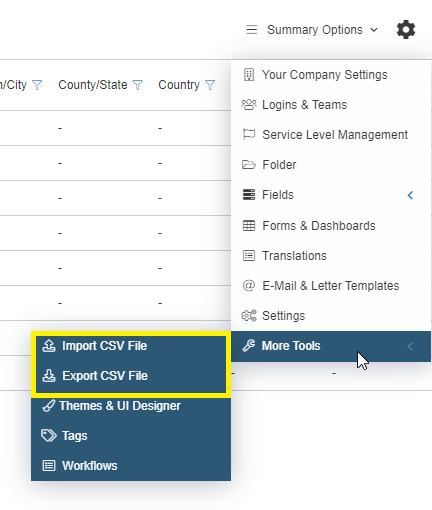 Select the file to import and Click to Import.

If there are errors they will be listed. You need to review the errors. The error log is listed to the file suppdesk.err. If there are no errors you can navigate away. 
---
Import Format 
The files to be imported must be flat  files of comma-separated values (CSV). Each line in the text file represents a HotH record of a particular type. The first characters in each line indicate the type of record to be loaded. You should also note that special rules apply to some fields. You can use Import to execute a SQL string.
Excel column headings are supplied below to assist. You do not need to supply data for every field, just enter those you need. (Though there are some validation rules, these are not documented here.)
Dates should be entered as DD/MM/YYYY for UK format and MM/DD/YYYY if US format is in use. 
---
Exporting Data 
You can export your current databases into a named file. The output records have the same layout as the corresponding Import records.
Hint – This is useful if you want to create an import file; create a 'dummy' record, populating the required fields with discernible text, such as REF in a reference field. The exported data can then be used as a template for the import layout.
Exporting via the Settings Cog
To export your data, navigate to Settings Cog > More Tools > Export CSV File: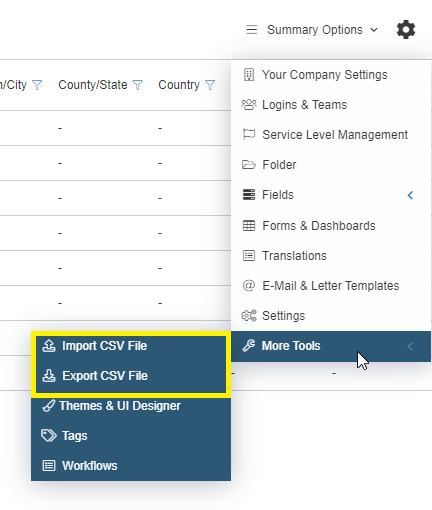 In the Database Export page select the items which you would like to export into a CSV file and click OK. 
Note : Calls is another term for Tickets.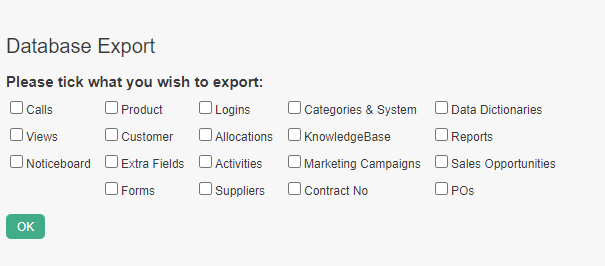 The page will refresh updated with an Export link which clicking will begin the download.

Exporting via Current Record
To export the data of the record or records you are currently viewing navigate to the Summary Options tab located next to the Settings Cog and click on Export

The page will refresh with Summary Options menu being updated to include [View]:

Click this to download the exported data file directly to your computer.
---
Still haven't found what you're looking for? Contact documentation@houseonthehill.com