For many organisations MS Teams has been an essential tool for home working. Collaborations, consultancy, and catch-ups –it sees it all. Quicker than an email and more engaging, for many of us the Teams platform has become our meeting room, our lunch table, and our classroom. This change in working accelerated our development of the HotH Teams Bot, which we are pleased to announce for 2021. Requires a public facing URL in order to connect with the Teams HotHBot.
A Supervisor guide is located here, and End-User guide can be accessed here
---
Key Features:
Agents and End Users can create tickets
End users create tickets against themselves
Agents can create tickets against any users
Connect once using your HotH login credentials
Or seamlessly with Single Sign-On (SSO)
Get Push Notifications. When an action is triggered in HotH to generate and email. You can get this notification pushed straight to you in Teams. For example, if a Ticket has been assigned to you or a change of priority to Urgent
---
MS Teams Product Roadmap:
At HotH we are continually updating and improving our product catalogue. Here are some features we are planning for the HothBot Teams pipeline.
Ticket categorisation
Inline conversation ticket creation
Rich text and image
---
How does the HotH Teams integration work?
Click on HothBot from the Teams main menu or from a recent Chat (See below) and type "hello" (or any text). This will kick the bot into action.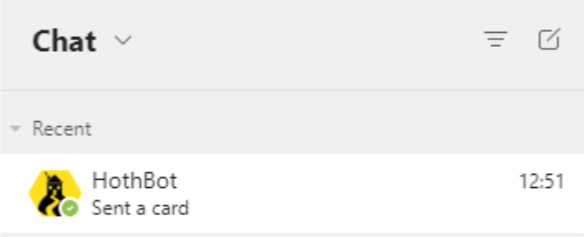 ---
Turn your conversations into Tickets.
You can then choose a range of options:
Login: Takes you to the HotH Login Screen. You only need to do this once
Create a ticket
Notification token: Generates the unique token so you get personal push notifications
Remove: Removes the HothBot from your MS Teams Application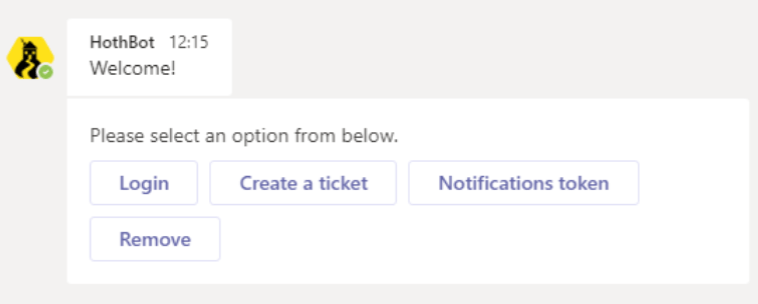 ---
Speed up the way you create tickets.
Click on Create a Ticket and follow the steps below: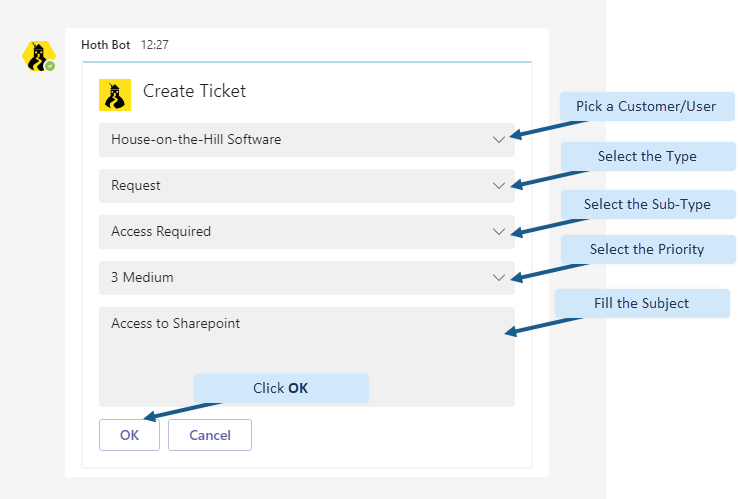 ---
Let Teams notify you on tickets.
With House-on-the-Hill's Microsoft Teams integration you can be notified for new tickets logged to you from within the Microsoft Teams application. Click on "Notifications token" and copy the code into the MS Teams field on your HotH login. You can then select which emails you want to receive notifications on.
---
Download the Teams app and away you go.
Download the Teams mobile app and the Bot works out the box along with Push notifications which also work on Apple Watch.
---
Still haven't found what you're looking for? Contact documentation@houseonthehill.com