The Disclosure Log Classification is optional and added to allow the grouping of requests when viewed in the Disclosure Log. It is maintained in Categories > Disclosure Log Class. Examples are supplied below but these may need amending.
Examples of Disclosure Log Classification
Allegations of Corruption
Conduct Proceedings
Financial
Gifts and Hospitality
Housing
Staffing
Other
Adding the Request to the Disclosure Log
On the Response Tab of the requests, at the bottom of the request screen there is an option to use The Disclosure Log.

This would normally happen as the last part of the request handling and as such the Disclosure log class is mandatory once these request has reached this stage. If the request has already been added to the log, the prompt changes to show the link: "Open linked Disclosure Log Entry" – see below.

Clicking on the link opens up the Disclosure Log entry: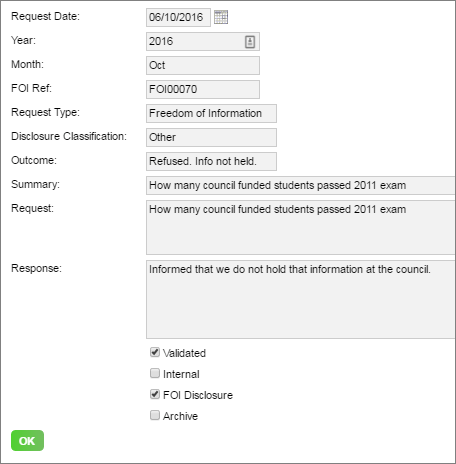 When the request is added to the Log certain information is carried over:
Request Date

Year

Month

The Reference of the Request

Request Type

Disclosure Classification

Outcome Code

Summary

Request

Response
Before a Disclosure log entry is public the "Validated" flag must be set. This provides the opportunity for log entries to be checked and anonymised if required.
The Disclosure Log can be made publically available by hosting the FOI solution on a public facing server and making the link to the log available. The link will take similar form to:
The public view of the Log appears as shown below, with the options to search on Request Type or Disclosure Classification.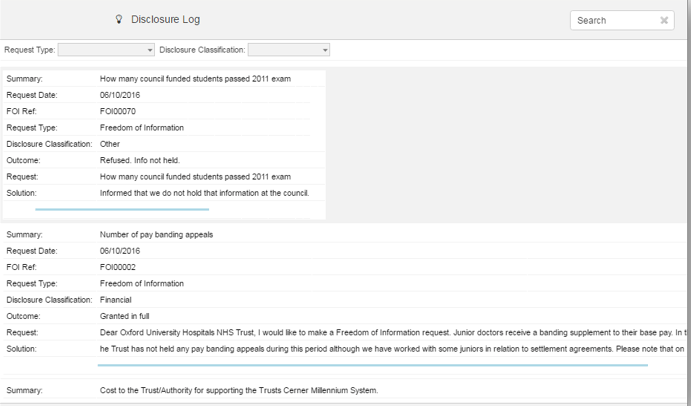 ---
Still haven't found what you're looking for? Contact documentation@houseonthehill.com