The last step is to provide the WebServer with a username and password to connect to the database with.
In Notepad on the WebServer machine, open "C:\supportdesk\suppdesk\suppdesk.ini"
Next to DSN= enter the name of the ODBC DSN you created for connection to the SupportDesk database. The default setting is DSN=houseonthehill.
Find the lines beginning Username= and Password=.
Insert the database username and password on these lines.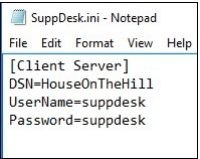 Save and close the suppdesk.ini file.
Recycle the SupportDesk Application Pool in IIS.
When you first login to the WebServer, the password in the INI file will be encrypted.