This guide aims to give a quick overview of how to maintain and add new mail templates.
---
Functionality
Log in with Supervisor rights, and navigate to the Settings Cog > E-Mail and Letter Templates.
Select this option and you will be taken to the area of the software that manages the mail templates.
Select User Defined from the Types.


If you want to add a new template, then click on Add New Template and a new blank screen opens allowing the new template to be created: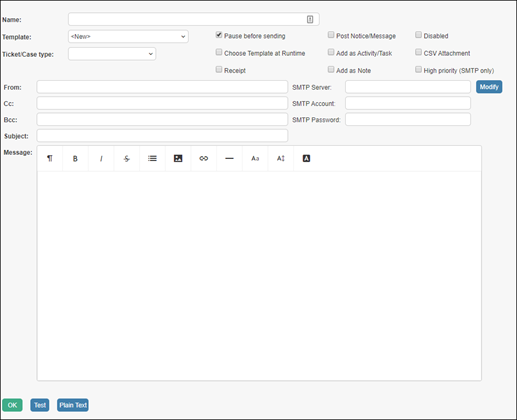 For your new template enter: –
Name – a short meaningful name indicating what the mail is for. Try and adopt a naming convention that will make it easy for you to sort and find the email you want.
Template – for new mails this will default to <New> and should be left.
Ticket/Case Type – if the mail is specific for a case type, then select it from the drop down.
Select the checkboxes for Pause before sending, Choose template at Runtime and Add as Note
Set the From address to be  <this will be your from address>
Set the subject to be similar to:
Acknowledge of FOI Request. Case Ref/ [call:reference]
(but without Acknowledge of FOI Request). The program will pick up the actual [Call:Reference] value when the mail is used and this field will show as the case number.
In the Message section of the mail enter the words that are required.
You can start a mail with Dear [Call:Contact] ,​], which will pick up the values from the case which, in the fields given here, is the name.
Type in your mail and then when complete press the OK button at the bottom of the screen.
To edit an existing mail template simply locate the one you want to change and click on it. The maintenance screen will open, and you can make the changes and press OK.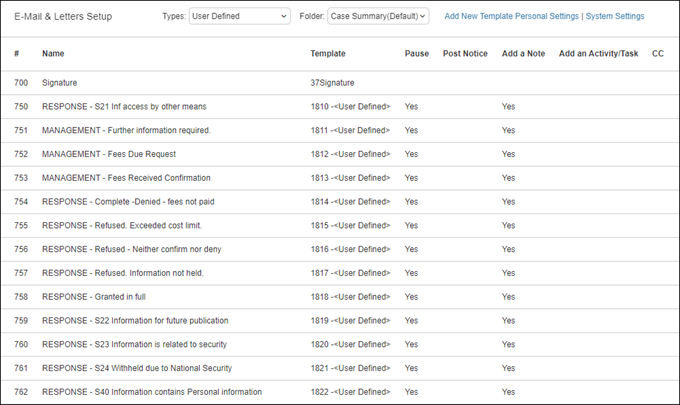 Once complete the mail templates will show up in the Template drop down that is shown when you click on the Select and Send button on the Case Management Form.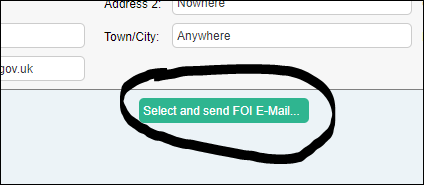 ---
Still haven't found what you're looking for? Contact documentation@houseonthehill.com