Accounts
This is a generic table for you to add further records. These can be imported/exported to another system. Use the DataDictionary to remove/rename fields. More often the accounts records are used for specific customisations by House-on-the-Hill.
---
Invoices
Are shown here if you have a ticket status flagged to create invoice. Invoices can then be exported to an accounts system
---
Creating Invoices
Invoicing comes ready out-of-the-box with House-on-the-Hill CAFM. With this guide you will learn how to build up an invoice with various line items and then send the finished invoice to a client.
1. Create a Work Request
Make sure the email field is populated. This is where you will send the invoice to.
2. Add Invoice Item
Click on the second tab "3rd Party & Contract" and then click "Add a new Invoice Item".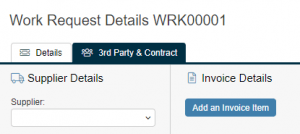 3. Populate Invoice Item
Make sure to add a budget and quantity. If this is work to be carried out click "Ok" or "Save". If this work has been completed click "Done".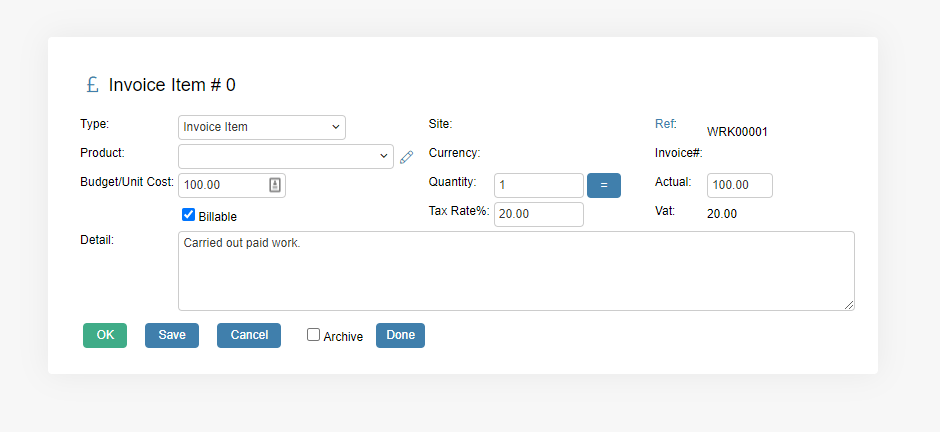 4. Set "Closed & Raise Invoice" Status
Once you've added all your line items. From the main Work Request page. In the status dropdown set it to "Closed & Raise Invoice". This will generate a unique Invoice reference for your invoice.
5. Print Invoice
Now run your invoice by clicking "Print Invoice" on the second tab.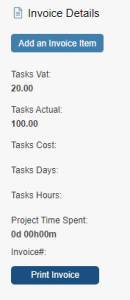 6. View Invoice
Now you can view your finished invoice. If you want you can save this page as a PDF for printing. But importantly this invoice is added as a Note on the main Work Request. This means you can email it directly to a customer.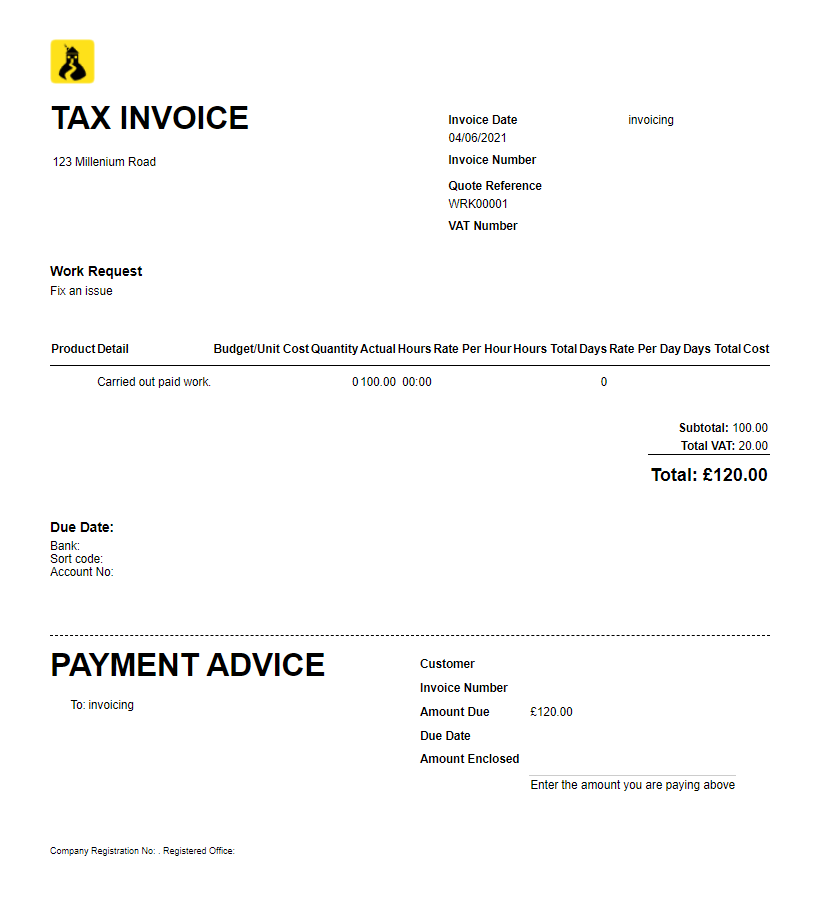 7. View Invoice Note
From the main Work Request. You can now see the Invoice is attached as a "Note". Click on the Note.

8. Email Invoice to Customer
You can now use the email Note functionality in HotH to send the invoice to your customer. In this case, "Dave.Angel@trees.org" is the email of the customer.  Click the "Email Note to Dave.Angle@tress.org" button to bring up the email screen with invoice attached. You can edit the message.

---
Still haven't found what you're looking for? Contact documentation@houseonthehill.com