Click the links to the topics outlined below to learn more information:
Managing Suppliers
Expand the Finance heading in the margin to access the summary list of Suppliers and create new entries.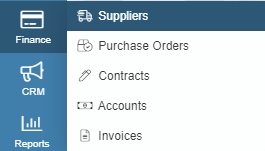 To create a new supplier, click the "Add New Supplier

" button or click into existing records to edit. Suppliers can be referenced on Purchase Orders, Contracts, Tickets, Product, Inventory and Activity records: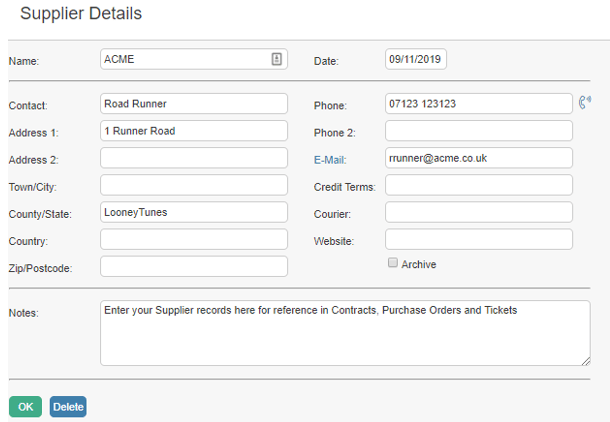 More Supplier Information
Extra Fields and Attachments (on the More link) can be added once the Supplier has been created.
Importing Suppliers
HotH has the ability to load external Supplier data files directly into the databases. You can therefore download data from any existing databases and populate the HotH databases.
In addition, HotH also has the ability to export your Supplier data from the HotH database to a CSV file, which you can learn more about on the Exporting Suppliers Guide.
The files to be imported must be flat files of comma-separated values. Each line in the text file represents a HotH record of a particular type. The first characters in each line indicate the type of record to be loaded. You should also note that special rules apply to some fields, please take advice from Support before loading new data type. You can use Import to execute a SQL string, but again please take advice from Support before doing this.
Note: Tickets and Notes are loaded into the current Ticket Folder. Any Suppliers referenced in the Tickets should belong to the current Folder. Similarly, if you are importing Tickets to an archive Folder, the Tickets should have status 'Closed'. HotH does not make these checks.
How to Import Files
In the WebServer, go to Import CSV from Settings.

Select the file to import records and click Import. If there are errors they will be listed. You need to review the errors. The error log is listed to the file suppdesk.err. If there are no errors you can navigate away.
Import Formats
Excel column headings are supplied below to assist with importing Supplier Records. You do not need to supply data for every field, just enter those you need. (Though there are some validation rules, these are not documented here.)
Dates should be entered as DD/MM/YYYY for UK format and MM/DD/YYYY if US format is in use.
Supplier Record – Type SU
| | | |
| --- | --- | --- |
| A | Code | "SU" |
| B | Identifier | Numeric. Mandatory and sequential |
| C | Name | Up to 40 Characters |
| D | Archived | 1=Yes, 0=No |
| E | Flags | Numeric (set to 0) |
| F | E-Mail | Up to 120 characters |
| G | Phone | Up to 40 characters |
| H | Fax | Up to 40 characters |
| I | Terms | Up to 40 characters |
| J | Courier | Up to 40 characters |
| K | Notes | Up to 250 characters |
| L | Contact | Up to 40 characters |
| M | WebSite | Up to 200 characters |
| N | Address Line 1 | Up to 40 characters |
| O | Address Line 2 | Up to 40 characters |
| P | Address Line 3 | Up to 40 characters |
| Q | Address Line 4 | Up to 40 characters |
| R | Address Line 5 | Up to 40 characters |
| S | Postcode | Up to 16 characters |
| T | Date | 10     characters |
Exporting Suppliers
You can export the current Supplier databases into a named file. The output records have the same layout as the corresponding Import records. This is useful if you want to create an import file; create a 'dummy' record, populating the required fields with discernible text, such as REF in a reference field. The exported data can then be used as a template for the import layout.
How to Export Suppliers
To export data, show the Supplier records in the summary and filter the list as required.
In the WebServer, navigate to Finance > Suppliers, then use the Export option in the Summary Options navigation bar; this will then offer the option to View the output. Now, you can open or save the file.