We advise that a new application pool be created specifically for SupportDesk. We also recommend it be called SupportDesk. The settings on the Application pool should be set to "No Managed code" and the Managed Pipeline mode should be "Integrated".
This should only be done for the SupportDesk Application Pool – SupportDesk should be the only thing running in its own Application Pool. That way this shouldn't affect anything else.
Open IIS Manager.
In the left hand pane, click on the arrow next to the user, which drops a down a list. Select Application Pools.
Navigate to the right hand pane and click on Add Application Pool.
Enter a Name in the Name field and keep the other settings as their default value and click OK.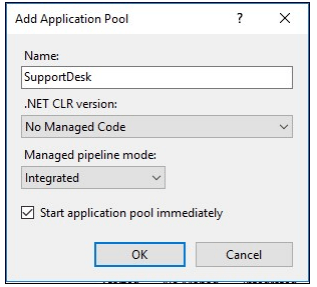 On 64-bit machines only – RIGHT CLICK the new Application Pool and select Advanced Settings. In the (General) section, set Enable 32-Bit Applications to True.
Set the Maximum Worker Processes to "3" but please discuss this with House-on-the-Hill as there may be an optimum setting for your installation and user count. For versions less than SupportDesk v2015 this should be set to 1.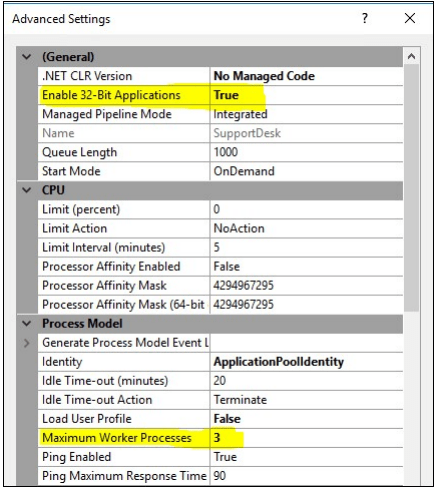 Navigate to Default Web Site in the left hand pane under Sites.
RIGHT CLICK on Default Web Site and select Add Application (you may prefer to add SupportDesk as a new WebSite instead – there is no problem adding the WebServer either way).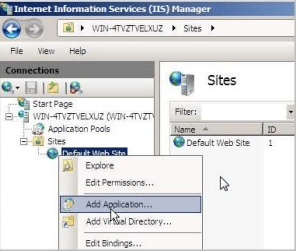 Settings are as below. With the Physical path of the SupportDesk installation selected. Select the correct Application Pool, in this example it is SupportDesk, the one we created earlier.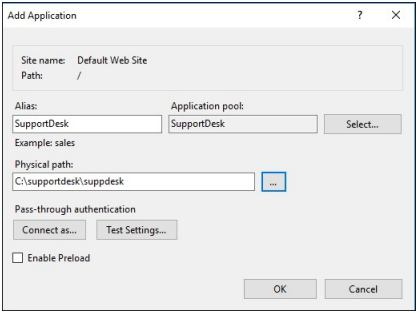 On clicking OK you are returned to the Main IIS Window.

The Authentication should be set to Anonymous Authentication by default.