One final task before testing the Web UI is to ensure that the supportdesk installation directory has the correct permissions. The example screen shots above have been for a website set with Anonymous authentication, which allows for guest users to use the system providing they have valid login details. Therefore we need to edit permissions for the IUSR account, which relates to Web Anonymous Users.
Under Default Web Site, right click on SupportDesk and click on Edit Permissions.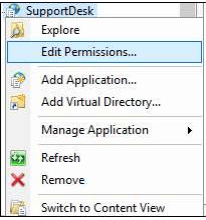 This will open up suppdesk folder Properties.
Click on the Security tab and add IUSR to the list of Group or user names – in the field titled Enter the object names to select, type in IUSR and then click on Check names, which should find and underline IUSR. Then click OK.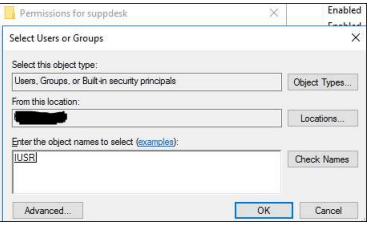 Highlight the IUSR user just added, and tick the Allow check box next to Full Control, which will now give IUSR full control.
Note: If Windows Authentication has been selected for the web UI then the permissions on the folder should be set in consultation with the System Administrator.