Resource Allocation is a means of recording where your company's expertise lies. You can record the topics in which different HelpDesk agents are particularly knowledgeable. This is accessed by Supervisors from System Management in the Windows and from Settings Cog

 > Logins in the Web, at the top of the Login Summary.

Resource Allocation records are used as an aid to assigning Tickets. When entering a Ticket, you can use the Allocate button to display a list of Assignees with their Resource Allocation knowledge rating.
Note: The Allocate button only appears at the Ticket form when Resource Allocation records have been created and auto-allocation has not been selected at the Company Configuration form.
Update records when Resource Allocations are displayed at the Main window by clicking into records (using the right mouse button in the Windows, or left click on the record in the Web). Click the "Add New Resource Allocation 

" button to create new.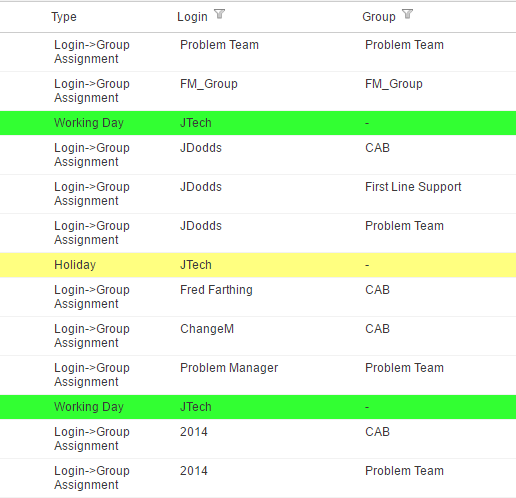 For each record, you must at least select a Login. You can pick a Product where the login is an expert and give a knowledge rating in the Knowledge field. Similarly, you can identify a Customer whose Tickets the login can handle.
You can create any number of Resource Allocation records for a login to identify all the areas of expertise. In addition, you can enter a period that the login is available as a resource in the Start and Stop date fields.
When logging tickets in the ticket form, if a Customer (and/or Product) is selected and the Allocate button clicked, a list of Resource Allocation logins who have been identified for this Customer or Product with their knowledge rating, are presented.
Within Company Configuration you can tick the Auto-Allocation box and HotH will automatically allocate the Ticket to the person with the highest rating.
Resource Allocation records are most often used to provide login Group details. A Group is created as a login record at the Login details form. When entering Resource Allocation information, you can identify the Group to which a login belongs. If a Ticket is assigned to a Group, it is included in the list for all members of the Group until it is assigned to a particular member.
Adding and Updating Resource Allocation Records
To activate the Resource Allocation form:
Windows: At the Main window, while viewing Resource Allocation records, use the right mouse button to create new or open existing records.
Web: In the Login Summary, click Resource Allocations and "Add New Resource Allocation

", or click into an existing record.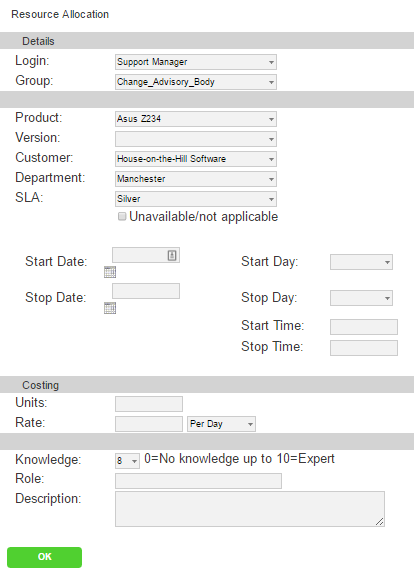 | | |
| --- | --- |
| Login | Select a login from the list. |
| Group | Use to enter the login into a Group. Only logins created with the Group privilege are listed here. Tickets subsequently assigned to the Group are listed at the Main window for each Group member, until it is allocated to a particular member of the Group. |
| Product | Select the Product on which the login is an expert. If the login has knowledge of other Products, create individual Resource Allocation records for each Product. |
| Customer | Select from the list a Customer for which the login is suitable. Enter a Resource Allocation record for each Customer this login is appropriate to handle. |
| Unavailable / Not Applicable   | Tick to remove this particular Resource Allocation record from the allocate search results at the Ticket form. You could use this tick box when a login is temporarily unavailable but you wish to re-instate the login at a later date. |
| Start Date / Stop Date | Enter dates to cover the period for which the login (resource) is available. |
| Costing Units | Use this field to record the number of units. It is provided for your records only. |
| Costing Rate | Use these fields to record a rate, selecting the appropriate time period (such as per week) from the pull down list. Data is recorded for your information only. |
| Knowledge | Select from 0-10 a rating for the login's knowledge or appropriateness for dealing with Tickets for this Product or Customer. The rating is displayed when you click the Allocate button at the Ticket form and this resource is included in the search results. |
| Role Description | Outline the login's role and describe their areas of expertise. |