The House-on-the-Hill FOI system allows the printing of FOI appropriate letters which merge data from the request into the text. Once the request has been logged the request screen shows various print options on the right-hand side of the screen.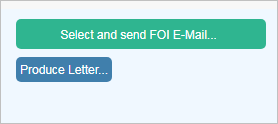 If letters are not going to be produced from the system, then this print menu can be removed from the form using the Form designer. Your HotH consultant will assist with this. If hard copy letters are to be used there is a task required before starting which involves checking the letter formats and contents to make sure that they are appropriate and fitting for your operation. To do this you need to select the menu option Settings Cog > Email and Letters – and then select Letters.
The system comes with two basic letters to offer an example of what can be used. New letters can be created here.

---
Still haven't found what you're looking for? Contact documentation@houseonthehill.com