The Analysis field on the ticket screen is used for recording extra closure information, such as if there is a Fix, No Fault Found, or Workaround available.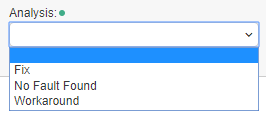 It is recommended that you set your Analysis field as Mandatory upon resolution or closure, by selecting the appropriate Mandatory Upon Resolution/Closure tick box within the Fields & Extra Fields.
The Analysis field is configured within the Settings Cog > Service Level Management, by selecting Analysis from the Category drop-down.

---
Still haven't found what you're looking for? Contact documentation@houseonthehill.com