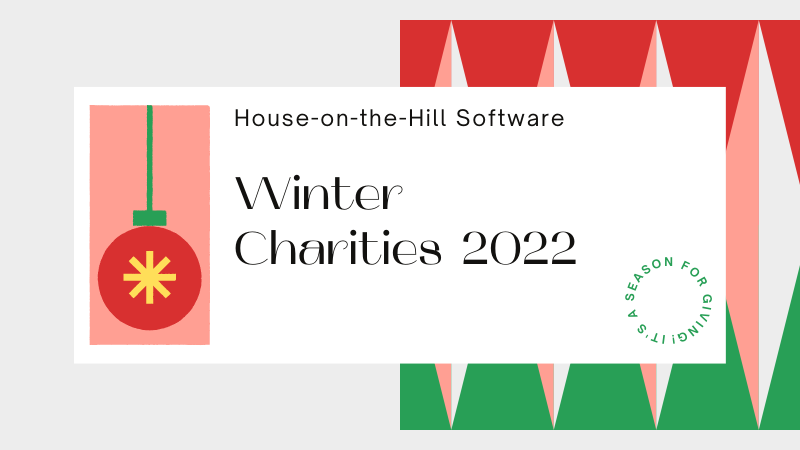 Winter Charities 2022
After a difficult year for many, we acknowledge how fortunate we are as a company to fulfil the social values to which we are committed and passionate.
For the HotH Winter Charities 2022 we are focusing on charities that support those who may be struggling during the festive season .
Manchester Central Foodbank
We are supporting Dan who is walking from Manchester to Liverpool to raise money for MCR Foodbank.
A supporter of West Didsbury and Chorlton AFC, Dan is walking from the Step Places Stadium, to AFC Liverpool's ground in Crosby.
A difficult task at the best of times, not only is Dan walking in January he is aiming to get there by kick-off at 3pm.
"Manchester Central Foodbank, unfortunately, should need no introduction. The services they provide for those most in need in our community are vital, and even more so around the winter months. Any contributions large or small will be greatly appreciated by me and people of Greater Manchester (it'll help spur me on to get to the end too!)"
akt
Founded in 1989, akt was set up in Manchester by Cath Hall, a foster carer who found that many lgbtq+ young people were not receiving the care and support they need and deserve.
akt supports lgbtq+ young people aged 16-25 who are facing or experiencing homelessness or living in a hostile environment.
akt support young people into safe homes, employment and education in a welcoming and open environment that celebrates lgbtq+ identities.
St Ann's Hospice
St Ann's Hospice believe that everyone deserves to have the best quality of life possible.
They support the unique physical, emotional, social and spiritual needs of those with a life-limiting illness.
All services are free of charge, and only around a third of funding comes from the NHS. As a charity, they need to raise £20,000 every day to keep their doors open.
Centerpoint
Centerpoint is the UK's leading youth homelessness charity. They support more than 14,000 homeless young people each year.
By providing accommodation, support and life skills they aim to get vulnerable young people back into education and employment.
Booth Center
The Booth Centre is a community centre run with people affected by homelessness.
The Booth Centre provides a warm welcome, an opportunity to belong, to gain a purpose and rebuild lives. Their programme includes activities such as volunteering, creative projects and sports, as well as training and help to gain employment. They provide support to improve health and wellbeing, to access emergency accommodation, and to secure and maintain a permanent home.
Winter Support Hours
To allow our team a well earned break over Christmas, our offices will be closed on the following dates.
26th December 2022
27th December 2022
2nd January 2023
Should you require support over the holiday period, you can log your request via the normal methods. By raising a ticket our portal, by emailing support@houseonthehill.com or by calling +44 (0) 161 528 1259