SupportDesk CSM Provides New Incident Log @ World Challenge
Jungle logbook spells help for teenage adventurers
Nearly all World Challenge's adventure skills development programmes for UK and other European schools go strictly according to plan – but when they don't the pioneering organisation depends on SupportDesk from House-on-the-Hill.
The Centre is based in World Challenge's headquarters, to which it moved in February 2009, in High Wycombe, Buckinghamshire. The organisation, owned by major European holiday group TUI Travel Plc, employs 75 full-time and 45 part-time staff.
"We register about 350 incidents a month in peak times, some of them involving multiple agencies, so the software is vital," said Business Support Manager Josefine Fox.

"SupportDesk provides a proper audit trail including the times at which things happened so you can follow events back to the beginning. It gives us an accurate portrayal and makes the handling of incidents a lot smoother. That's a massive benefit when you have children on expeditions in some of the most inhospitable terrains on Earth."
A teenager breaks an ankle on a trek in Vietnam's Mekong Delta and has to be evacuated by helicopter. Dazzled by the awe-inspiring beauty of Mayan ruins in Guatemala, an expedition member has her money and passport stolen.
In the Northern Hemisphere Summer, from roughly mid-June to end-August, World Challenge has as many as 350 teams of teenage 'Challengers' and their adult guides in 45 destinations dotted across the planet.
"When things go well, people ask where the money went. When things go badly they find out."
That was the comment of one experienced school leader, whose previous expeditions had all gone well, who called World Challenge's Operations Centre after a serious incident.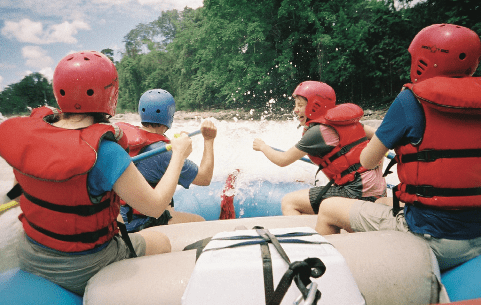 SupportDesk to the rescue
All incidents are logged and managed in the Operations Centre on House-on-the-Hill's SupportDesk, an established tool found in a wide variety of Help Desks around the world and known for its versatility. The Centre is manned around the clock when expeditions are overseas by trained response managers generally drawn from military or emergency services backgrounds.
Expeditions last between one and six weeks with "Challengers", who have to raise their own money for the expeditions, aged between 14 and 18. All team leaders carry satellite 'phones and emergency distress beacons.
Before House-on-the-Hill, World Challenge used Filemaker as its main database:
"It had very limited functionality, the person who had written the program had left the organisation a few years before and there was very little you could do to tweak it," Fox recalled.
The solution was… House on the Hill
So the decision was taken to introduce a new central database, the Internet-based Expedition Management System (EMS), and look for new software to run a new Incident Log.
"We selected House-on-the-Hill on the recommendation of our telephony supplier, IP Integration, which was already a House-on-the-Hill client," explained Head of Business Systems Jenny Monro.
"We looked briefly at another couple of systems but they were more expensive and anyway we prefer suppliers who come recommended. (House-on-the-Hill MD) Iain Broadhead came and gave us a presentation and we liked what we saw."
The two systems are linked so users of the Incident Log can access information from the central database which includes contacts and financials, and manages expeditions for schools.
As easy as calling up a log
"SupportDesk's introduction (in Summer 2007) was totally seamless and we used it straight away,"

commented Operations Support Manager Richard Steele, a former Royal Navy submariner who led an expedition to SE Asia, trekking and working on community projects.

"I was very sceptical at first and wanted to run it in parallel with Filemaker but after the first week we just turned the old system off because we knew our way around House-on-the-Hill."
Now there is just one incident on the current system that was copied over from Filemaker – underlining the strength of SupportDesk.
"It's so intuitive that you can easily train someone who has never used anything like
it before,"

Steele said. "It's a massive accolade that staff accepted it so readily,"
Fox added "Often when a new piece of IT kit is brought in, employees are cynical because they think it might not work or are scared they may not be able to use it properly. It was so much better, easier and more robust."
"That's right,"went on Steele. "It has never crashed on me once. It's very stable."
Unique use of Help Desk software
SupportDesk, in this case the Customer Support variant (CSM), did not require bespoke customisation to accommodate the features required to make it so invaluable – a little time with House-on-the-Hill's expert consultants was all that was needed. Pulldowns were re-named, specialised categories were created and a way was even found to automatically calculate and record local incident time at the touch of a button.
Away from the office, staff can log in through a Web browser.
Although access is not always possible in the field depending on location, Steele fondly recalls logging into the Incident Log in a jungle in Borneo, an hour's flying time away from the nearest airport.
Senior managers no longer need to be 'phoned at home with details, perhaps in the dead of night, and then have to drive for an hour into the office to view the latest situation. They just need to switch on their computer at home.
"It makes decision-making a lot quicker,"

said Fox.
Insurance companies will also generally accept the Incident Log as evidence when dealing with claims such as those for injury, sickness or lost property.
"That saves a lot of time for us and them in handling the paperwork".
Making expeditions even safer around the globe
According to Steele, one of the big benefits of the HotH system is its analytical and reporting capabilities.
"We analyse incidents to make our expeditions even safer and SupportDesk CSS allows me to do this," he commented. "I could write a report for the Board in just five or 10 minutes by interrogating the log. It's absolutely brilliant!"
Incidents can be broken down by category (No. 1 being a serious or life-threatening situation and no. 4 being a purely administrative matter), country, type of incident or even individual school.
What is House-on-the-Hill's own support service like?
"There hasn't been a lot to fix although the other day when I asked for advice on how to archive our recent files I received a detailed explanation within an hour," Fox answered.

"House-on-the-Hill's support has always been top-rate. There has never been a serious issue they have not been able to solve. "
"Our experience of House-on-the-Hill has been very positive," Monro summed up.

"The system has delivered what we wanted it to deliver – absolutely. And they haven't made any promises they couldn't keep. If there is a major incident we simply couldn't do without it. We must have access to that information."

"I'm in love with House-on-the-Hill and it's nice to know that other staff are too," said Fox. "It's an important cog in our wheel. And it fits in well with the other cogs!"