A Hosted Helpdesk for First Choice Homes Oldham
Selecting SupportDesk
Managing approximately 12,000 homes, First Choice Homes Oldham (FCHO) is a not-for-profit registered provider of social housing, with customers at the heart of everything they do. In an interview with ICT Service Delivery Manager David Gorman, David described how FCHO first became aware of House-on-the-Hill Software at the Service Desk and IT Support Show:  "SupportDesk was recommended to me by a colleague who had seen it demonstrated at the conference. We were searching for a new Service Desk software tool that had the ability to be either hosted or in-house."
Following the show, FCHO asked a House-on-the-Hill consultant to demonstrate SupportDesk, and they saw that the system could do everything they needed it to:
"We received an excellent product demonstration. The product met our requirements to support Incident, Problem, Request processes, and to be simple to use. It featured a full set of mappable processes and offered a self-service portal for Customers. A flexible KnowledgeBase and Configuration Management Database were also important features."
The availability of both Cloud and On-Site deployment methods means that the ICT Team can focus on ensuring that SupportDesk does exactly as they require, rather than being confined by the deployment option. The software's flexibility also means that they could start small and evolve the configuration as their requirements expanded: "The fact that we could start with a simple solution to get things up and running quickly and then add extra functionality was a very important part of our implementation plan."
Getting Started in the Cloud
FCHO opted for a Cloud service desk with a monthly subscription, and David was pleased that it provides excellent value for money. This also meant that there was no necessity for the technical installation of SupportDesk: the software is hosted by House-on-the-Hill, so maintenance, upgrades and hardware upkeep are all taken care of. All that was required was their system URL, and FCHO were able to get started with their configuration straight away.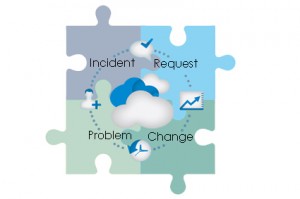 David described his experience of the configuration and working with House-on-the-Hill:
"It was an excellent process. A knowledgeable consultant was allocated to the project from start to finish, and she worked alongside us to understand our requirements, our processes and help build them into the system."
SupportDesk is an extremely configurable tool, and so First Choice Homes Oldham were able to create unique workflows, Service Level Agreements and email triggers to make their process as automated and customer-focussed as possible.
Daily Operations
Supporting around 450 end users and logging on average 40 calls a day, David explained how FCHO has "a very busy service desk for a small organisation, and operates a flexible staff structure with people having to cover multiple roles – service desk, support roles and project roles." SupportDesk's customisability in terms of editing Login roles and individual access privileges has therefore proved a huge advantage: each team member can see and do exactly what they need to.  David remarked; "We have gone from using an in-house simple database to using House-on-the-Hill, so the change to how the team functions has been enormous."
A typical day-to-day call that is logged on the FCHO helpdesk may be that a remote worker is unable to access a system via a mobile device. "The Customer logs the call by telephone." David explained. "Then the call is logged at the Service Desk, taking down customer and device information and issue details. The SLA is then automatically set by the system based on the selection of call type and service." As SupportDesk operates using a multiple-tier breach system, the SLA then automatically populates Response, Warning and Action times.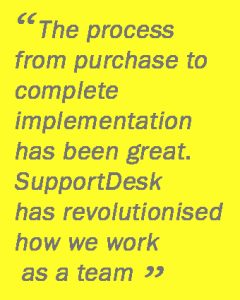 Emails are sent at pre-defined stages of the call: "An email is automatically generated and sent to the Customer confirming call details and reference number. The call is allocated to an engineer to investigate, and another email is generated and sent to the engineer to confirm that the call has been assigned." First Choice Homes Oldham have also integrated an auto-emailing function based upon the selection of a Partner organisation: if the engineer discovers Partner support is required, the selection of the Partner will automatically generate an email notifying the external party. Then, "Once the call has been resolved, an email is generated to the customer confirming details of the call and explaining the resolution. If there are no further actions on the call it automatically escalates to Closed."
Revolutionising Company Culture
Positive changes have been made at FCHO since choosing SupportDesk, as David described: "We are trying to develop a whole culture change through the business around how Customers interact with ICT by using SupportDesk to enable self-service." The Self-Service portal will now be used as an option rather than telephone and email for Customers to log issues, access Frequently Asked Questions, and track their calls. FCHO have also integrated Case Based Reasoning, so that possible solutions pop up based on keywords typed by users.
In terms of how the ICT team have found taking up a new service desk system, David said "They like the simple clean interface, how easy it is to use and how quick it is to generate KnowledgeBase articles, changes or problems from existing calls." Other advantages that the team have found are that "logging and escalating calls is fast and easy. The excellent search function makes it easy to search existing calls and clever links to the KnowledgeBase make it easy to create and search for articles."
A Friendly Bunch
Collaborating closely with the House-on-the-Hill team to ensure that they obtained exactly what they needed from the tool, David said that "From working with House-on-the-Hill I have been left with the impression they are friendly, helpful, and the staff genuinely cared about what we have wanted to do with the product."
Now that their hosted SupportDesk system is fully up-and-running, David is happy that "The process from purchase to complete implementation has been great. SupportDesk has revolutionised how we work as a team and is now a key part of the ICT strategy for FCHO."