What is Enterprise Service Management?
Enterprise Service Management allows you to manage multiple parts of your organisation within House-on-the-Hill Software. Designed to be used by numerous teams and departments, Enterprise Service Management consists of a suite of features and processes, locked together to work in harmony.
Why choose the Enterprise path?
Over the years HotH has quietly been establishing itself as an unsung hero within the ESM market. Thanks to the software's durability and extensiveness, HotH has been able to provide one of the most cost effective ESM solutions on the market. Many of the "big" players in the ESM scene have price points at more than double what HotH offers. This is tough for SMEs, especially within the current economic climate. Quite often House-on-the-Hill comes out on top when face-to-face with other enterprise solutions such as ServiceNow. Deciding factors are that they are far more expensive, the support feedback was too slow and that it can take an awful long time to make any changes to your system.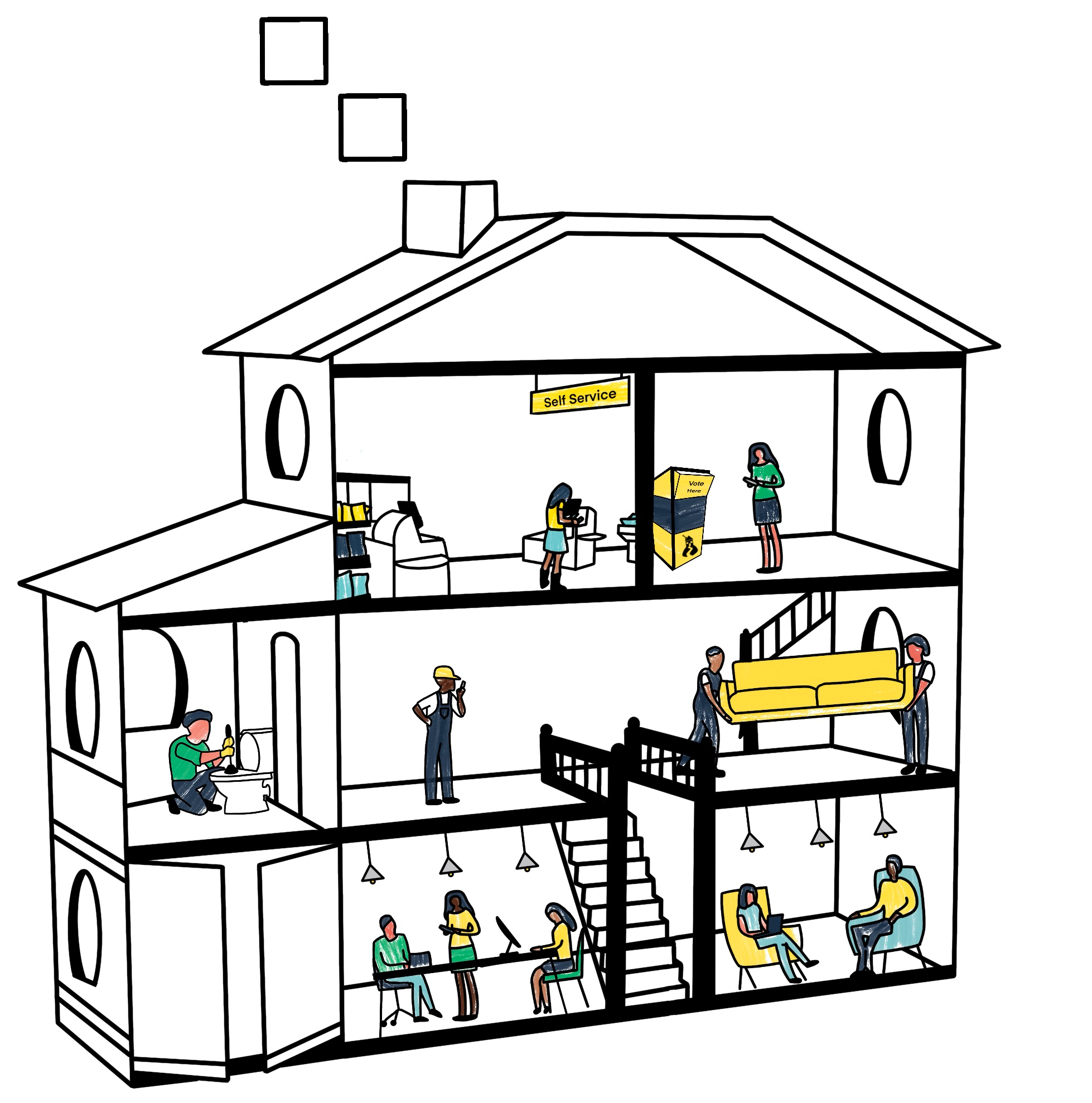 The 5 Pros of Enterprise Service Management
1. Cheaper!
What we've seen within our case studies is that customers can relieve themselves from a number of softwares and manage these processes all within HotH! MoSoftwareMoProblems. Old on-site software can often be a burden. They require costly updates or are slow cumbersome spreadsheets that need to be fully digitised to save time and money. Oversubscribed to too many cloud solutions? By choosing HotH Enterprise your subscriptions and costs can be reduced.
2. Helps you grow
Many customers who rely on HotH for customer service or deal with external clients, have seen massive return on investments. HotH becomes the central brain and repository in which all information flows within your organisation. Many customer success stories have HotH at the heart of their operations and as they grow, so does HotH!
3. Makes life easier
Stop juggling between multiple applications and create UNLIMITED streamlined processes with HotH. With a click of a button, our Enterprise App Dashboard deploys a range of solutions such as IT Support, Customer Service, Facilities, FOI & Case Management, HR, Finance, Visitors, Operations, Information Security, Data Breaches, Docs, Planned Preventative management and many more!
4. Easier decision making
With your data securely stored under one roof, you now have the perfect vantage point to spot trends, bottlenecks, feedback and abnormalities within your service using our reports designer. Making informed decisions, road-mapping and continual service improvements have never been easier.
5. No holds barred HotH functionality
Release the shackles and harness the full power of HotH. With unlimited folder processes and a fully customisable interface there is nothing stopping you from creating your dream service. Other included modules include CRM, Sales Opportunities, Email Campaign Management, POs, Contracts, Invoicing, Supplier management. This is just the beginning.
Where and when can I see HotH ESM in action?
Well you can find Pete and team at the SITS show or why not contact sales@houseonthehill.com and lets chat about your service and start to put your vision into production.