The 'Right to be Forgotten' from the Service Desk
As May 25th approaches, we wanted to let you know about how SupportDesk can help you to comply with General Data Protection Regulations, in particular "The Right to be Forgotten". SupportDesk allows you to redact names, email addresses, phone numbers and other selected pieces of data when archiving a customer, contact or login on the service desk. This means that not only is the user's data removed from the archived record, but also from any historical tickets logged by or associated with that user.
SupportDesk gives you the choice to 'Redact Data When Archiving' on certain fields in the Data Dictionary: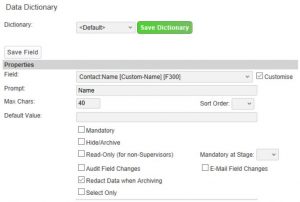 Want to know more? Speak to us today by emailing GDPR@houseonthehill.com, or give us a call on +44 (0) 161 449 7057.