What Do I Need From a Service Desk Tool?
What are the essential features of a service desk tool? How do you choose the configuration that's right for you? This article discusses what we at House-on-the-Hill have experienced to be the most requested functionality of business service desks, and we also take a look at more bespoke configurations that are becoming increasingly popular.
Service Desk software solutions offer all kinds of functionality to manage the extensive variety of business processes, so when an organisation asks "What do I need from a service desk tool?" the answer will ultimately differ for everyone, depending on the business areas being supported. What may be an essential service desk feature for one organisation may be unessential for another, therefore the ability to pick and choose functionality is a bonus for many organisations. There are however some features of service desk tools that are more widely desirable than others…
Familiar Service Desk Features
2016's Service Desk and IT Support Show (SITS16) conducted a survey on what service desk users and managers consider to be the most valuable features of a service desk tool. These included the ability to manage assets, a self-service portal for Customer call logging, and the ability to measure and report on performance. These findings fit with those of House-on-the-Hill, as the majority of SupportDesk systems are set up with these three options included. Another survey recently conducted by the Service Desk Institute (SDI) also found that the ability to store known errors and workarounds in a knowledge management system as part of the service desk, was also a highly desirable feature for businesses.
These four core features of House-on-the-Hill's service desk tool, SupportDesk, have proved popular with organisations worldwide, but SupportDesk also takes the management of these areas one step further. SupportDesk's drag and drop dashboard and forms designers give service desk administrators greater control over how these core areas function in terms of their accessibility, their look and feel and the data displayed.
An example of this can be seen within SupportDesk's asset management module. This feature supports a fully customisable audit dashboard which allows service desk analysts to see an instant view of audit reports and graphs. The audit dashboard can also be maintained, updated and customised to suit the specific requirements of businesses, by simply dragging required reports onto the audit dashboard template: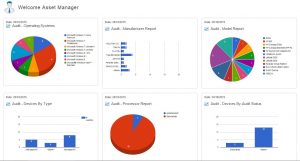 The Customer self-service portal can also be fully customised by system administrators to include bespoke buttons, graphics and images, as SupportDesk's component designer enables the creation of widgets, which can then be added to the Customer portal template: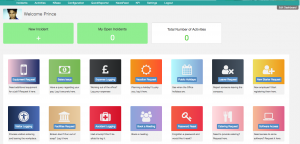 Reporting dashboards can display specifically designed service desk reports, and can be associated with specific User Logins. This means that managers of different business areas can view just the data they need to see upon logging into the system: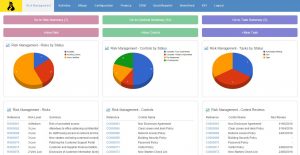 And within SupportDesk's knowledgebase: the repository for known errors and workaround information, custom forms can be designed to allow just required information to be captured and stored for future recall: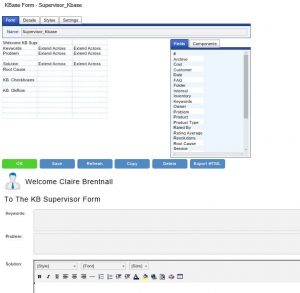 Bespoke Designs and Extending System Use
We are seeing a growing number of businesses extend the use of their SupportDesk system into additional business areas and process management functions, as business requirements grow. The ability to 'bolt on' or easily extend systems at low cost is therefore becoming an inreasingly attractive feature, and SupportDesk users have been able to do just that. Whether it's adding processes to existing systems or setting up separate systems within the same organisation, using the same tool for multiple purposes is proving a cost and time saving option.
A common customisation is the addition of a Facilities Management process (CAFM) onto an exisitng IT Service Management system. This is easily achieved within SupportDesk with the enabling of the FM process, and configuration can be done partly, or entirely by trained in-house SupportDesk administrators, or with the help of House-on-the-Hill consultants.
Again, SupportDesk's dashboard designer comes in to play here, as it is possible to associate bespoke dashboards with different areas and process types. So, in the same way that default dashboards can be set for individual Users, it is now possible to have a default dashboard for each process managed within a system. This is extremely useful for managers of multiple processes, or of multiple business areas, as it enables instant toggling between detailed, unique dashboards: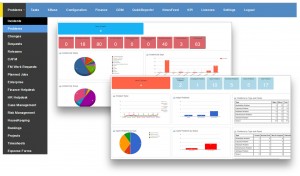 So, there are some core features that are most commonly seen within service desks of all sizes and sectors, but there is one feature that we at House-on-the-Hill believe is essential for a service desk tool to have, and that is the ability to adapt. So perhaps the question should not just be 'What do I need from a service desk tool?' but, 'What do I need now, and what might I need in the future?'
Find out more about SupportDesk, about what's new in SupportDesk, and take your free trial!