The final week of October was one out of the ordinary for us at House-on-the-Hill. We had the pleasure of  having Akeem & Paul over for some training from Nigeria for 2 days, themselves being in the UK for 4 full days. We didn't want them to return home without the full northern UK experience, so we gave them a good taste of things to do.
On Tuesday morning, Iain and Trudy collected them at their hotel, meeting with Akeem at the foyer. The first meeting began with giggles as he exclaimed 'I thought you were going to be a man!' with regard to Trudy. He was dressed smart in jeans and a crisp chequered shirt, but no coat in this freezing Manchester winter air! To be fair to him, the conditions in Nigeria are +28 degrees whereas here we are currently running below 6! Paul was slightly more suitably dressed for a trip to the countryside at Lyme Hall, he has lived in the UK before.
Trudy had anticipated the lack of warm clothes and thrown some jackets into the car. Akeem couldn't get the coat on fast enough after we parked up at Lyme hall! A beautiful sunny autumn day, but with a biting wind – brrr. The guys braved a quick walk up to the cage to take in the view of Manchester and the Pennines. Paul quipped this is why everyone is in a hurry in the UK, you have to keep moving to keep warm! And it wasn't much warmer in Lyme hall itself. Though the guys were given a very warm welcome by the staff. The room guides couldn't be more helpful in providing information and our guests wallowed in the atmosphere of this English country house. And then we came to the wardrobe room the ladies there swiftly pounced on these visitors fresh from Nigeria. Iain suggested that they just put on a top hat, but the wardrobe ladies were having none of that. They dressed Akeem and Paul in full regency attire, fussing round them like mother hens, putting them in frilly shirts, white trousers, frock coat, cravat, all on top of what they were already wearing. The guys totally immersed themselves in the experience, partly I suspect, because they could wear more clothes. The ladies clucked their approval of a job well done and finished them off with eye glasses and walking cane. They were really striking and received so much admiration as we completed the rest of the tour in regency dress.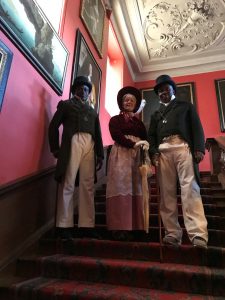 Next on the agenda was afternoon tea, but this was replaced with a preference for hot soup. An opportunity to discuss what they would like to do during their non-working time in the UK. We thought they would enjoy a tour of Old Trafford, everyone likes football in Nigeria, even if they are Chelsea fans! Akeem and Paul wanted to go to London on Friday so we quickly brought forward this plan and entrusted our visitors with Pete to take them to the tour and then back to the hotel. But not before negotiating a warm coat for Paul, which he gratefully received along with my long woolly scarf.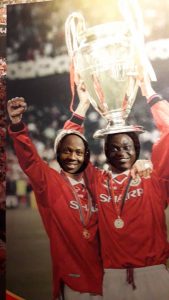 We think they enjoyed their visit to the Theatre of Dreams, though Pete kept having to tell them to smile for their photos. Was this the because of Chelsea blue or just the cold?! Full of enthusiasm, Pete tagged the guys in on Thursday night football, promising the loan of kit and boots.
Pete called by at our visitor's hotel to bring them to the office for training on Wednesday and Thursday. Akeem and Paul had 2 full on days of training with a short break for lunch. On the first day we ordered in sandwiches – Paul was bemused that in a cold climate we ate cold food and in his hot home land they like to eat hot spicy food – nowt as queer as folk, eh?
We left the guys on their own for Friday. Paul wanted to go to Chester zoo – he wanted to see the animals from Africa which amused us. In the end they went to blue planet aquarium, which was a wise choice as it rained all day and we hadn't equipped them with brollies!
Perhaps they will make it to London another time. We think they enjoyed their visit with us and that we gave them a warm welcome to compensate for the cold climate!