The pages linked below show you how to navigate and log issues and requests in the Customer Self-Service Portal.
Click the links to the topics outlined below to learn more information:
The Today Page 
*Your Customer profile will most likely have been customised so that it is unique to your organisation, so may have a slightly different layout and functionality, but the following is a standard example of a HotH WebGuest login view, to get you started.
Upon first logging in, you are greeted with your profile: an overview page which has various different drill-down windows and icons.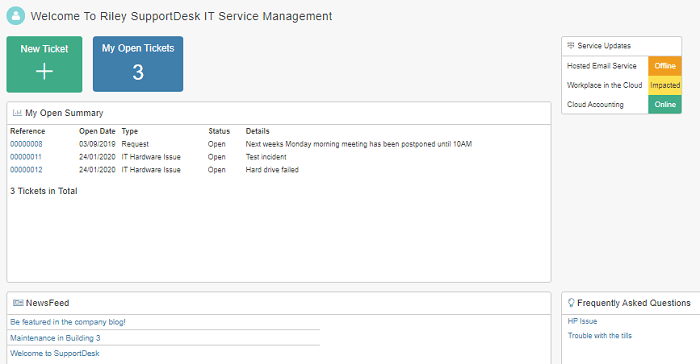 | | |
| --- | --- |
| New Ticket | Use this button icon to raise a new Ticket |
| Frequently Asked Questions | The Frequently Asked Questions section displays a list of FAQs that can assist you with the resolution of minor issues, and provide you with helpful information. |
| NewsFeed | The Newsfeed section is a noticeboard area that can contain general news items relating to your company |
| Service Updates | The Service Updates section displays a list of the Services that you are subscribed to. The traffic light colour coding denotes their operational status: Green=Online, Amber=Impacted, Red=Offline |
| My Open Summary | The My Open Summary list displays calls you have logged which are still Open. The reference numbers are drill-down links into the call records, and allow you to see the progress of your calls. |
Logging a Ticket
Your profile home screen will ask you if you would like to log either an issue (Incident) or a Request, or it may simply ask if you would like to log a Ticket. After clicking on the relevant link or the lifebelt icon, the ticket logging screen will appear. This screen will be a simple form that may look something like the following, although this will have been customised to suit your organisation.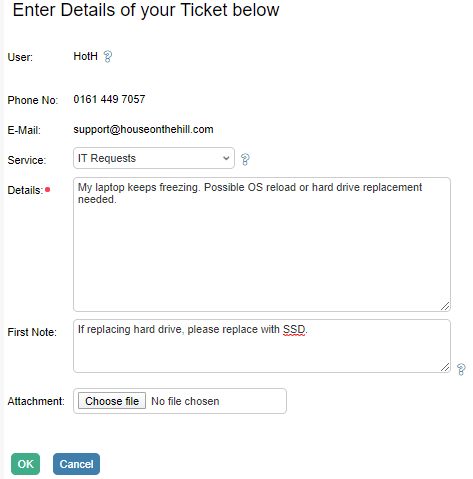 | | |
| --- | --- |
| User/Phone No./E-Mail | The system will recognise that it is you logging the ticket based on your login credentials, so will auto-populate your contact details. |
| Service/Asset | You may have a drop-down list of Services or Assets to pick from, to denote what the issue relates to. |
| Details | The free-text Details field lets you enter details of what the ticket is about |
| First Note | You may have the option to add Notes to the call using the First Note field. This is useful if you wish to add extra information. |
| Attachment | Attach files to the call using the Choose File button. |
| OK | Clicking OK will log the call and alert the Service Desk. |
Password Reset Options
Password Reset options for End Users
HotH's login screen includes a Login and Password field, both of which must be completed for users to log in to their personal profiles. Password resets can be a common request on the HelpDesk, so underneath the Login and Password fields there is a 'Forgot Your Password' link enabling self-resolution in the case of a forgotten password.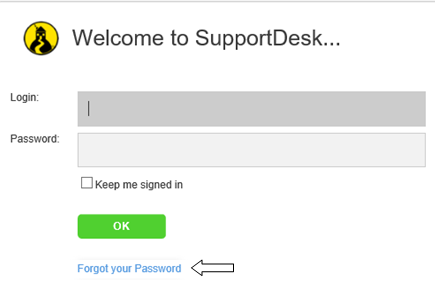 Once clicked, Users can enter either their e-mail address, User Name or Login for the system to identify them by, then click Submit: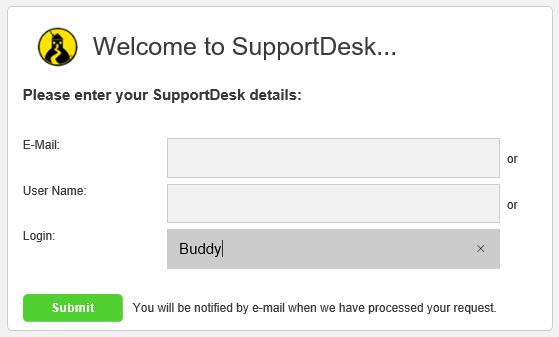 Once submitted, a reset message appears on the Login screen:

And a message is sent to the e-mail address* associated with the Login details provided, which includes a randomly generated temporary password. Upon first login after password reset, the user is prompted to enter a new password.
*The User must have an email address entered on the Options tab of their Login record for the email to be generated and sent.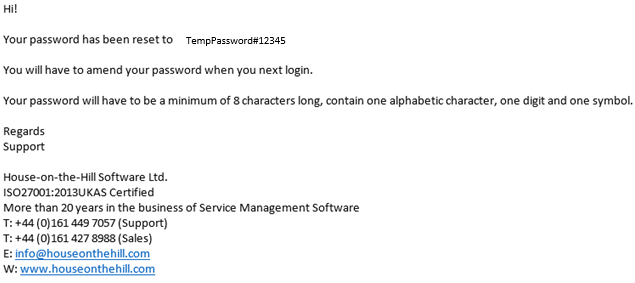 Password Reset options for Supervisors
Supervisors are able to access login records via the Settings dropdown, and clicking Logins. HotH includes a Reset Password button on the Details tab of individual Login records:

When clicked, provided the Login record has an email address entered on the Options tab, the password reset email will be automatically generated: