To the left of the Search field on the work queue screen, you will see a small button which in the web is a magnifying glass, and on Windows is a pair of binoculars:
| | |
| --- | --- |
| Web: | Windows: |
| | |
Clicking on the icon will bring up the search screen: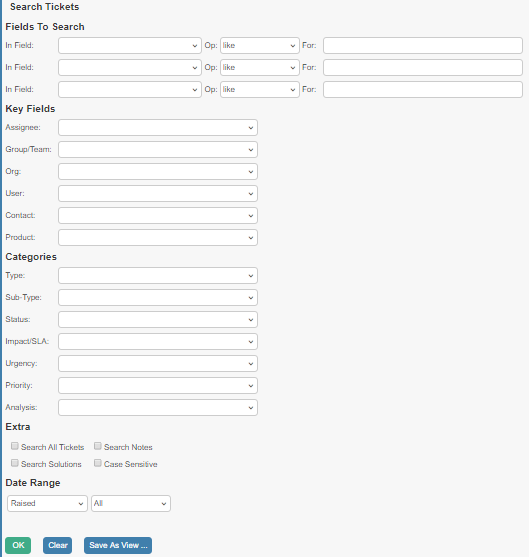 This screen can be used to create refined searches that include multiple parameters and search terms:
The top 3 'In Field' search boxes have a dropdown of all fields on the ticket screen.
The Op. selection allows you to pick whether the system searches for something similar to, equal to, lower than etc. what has been entered in the 'For' field.
The 'For' field lets you enter any search term and is a free text field.
Then the Key Fields and Categories allow you to refine your search further, with the Date Range drop-downs enabling the selection of Open, Closed, Raised tickets etc. You can also select custom date ranges by clicking Dates, then entering the specific dates.