Upon first logging in, you are greeted with your Today Page, which gives an overview of the current situation on the helpdesk, and is tailored to show you certain ticket lists that relate to you.
The Today Page that you see will be unique to your organisation, but may look something like this: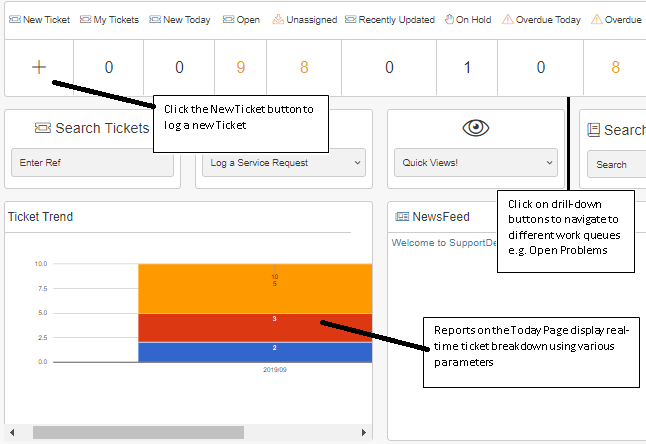 News Items and the Notice Board
SupportDesk's Notice Board is an optional area of your Today Page. The Notice Board can be used for general announcements, news items and displaying the answers to Frequently Asked Questions. The information below gives an overview of how to use your Notice Board to full advantage.
Creating News Items
When service desk agents log in to SupportDesk, the Notice Board can be a useful place to display internal company news: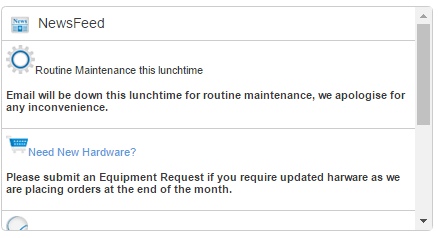 To create a Notice Board item, navigate to Messages > News Items. It will depend on your login permissions as to whether you can see the icon: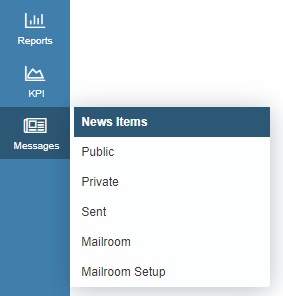 The NewsFeed automatically displays helpdesk news such as the creation of new logins, tickets, and who they have been created by, in addition to manually added news items:

Clicking "Add New Message

"generates the Message Details screen, where you can define what the post is about and who can see it.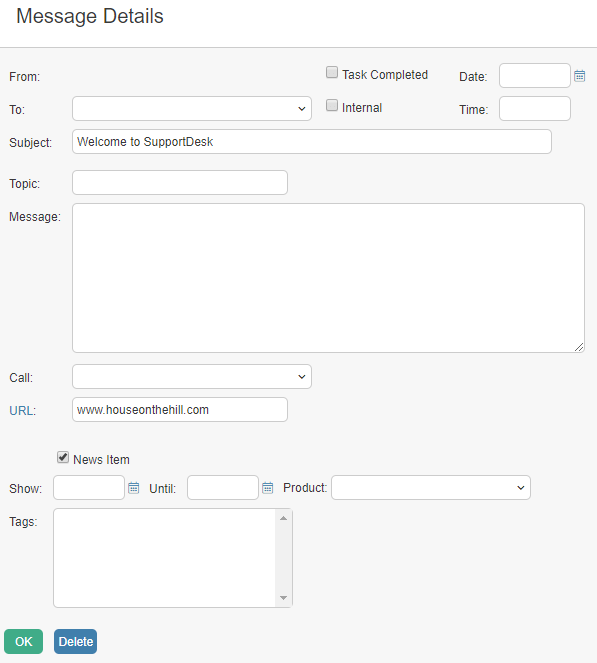 | | |
| --- | --- |
| Date and Time | The Date and Time automatically populates to log when the news item was created. |
| Internal | Clicking the Internal tick box ensures that only service desk agents can see the post. It will be hidden from WebGuests. |
| Subject | Enter the News Item subject in the subject field. Images can be added using html, and can reference the Images location where your SupportDesk is installed. |
| Message | Enter the News Item details in the message field. |
| URL | Entering a URL will make the Subject of the news item a link to the web page entered. |
| News Item | Ticking the News Item checkbox will make the News Item appear on the Today Page Noticeboard. |
| From and Until | You can enter the dates that you wish the News Item to be displayed from and until. Leaving this blank will mean that the item will be displayed until you delete it or deselect the News Item tick box |
| OK | Click OK to save the News Items. |
| Delete | Delete unwanted News Items by clicking Delete. |
Sending Private News Items