Service Level Management is key to the analysis and reporting of tickets. It is used to categorise tickets in terms of their Type, Priority & Service Level Agreement, Status and Analysis of the ticket.
Tip: Use the Data Dictionary to rename Service Level Management fields to match your terminology.
As every system is unique, it is not possible to provide an exact template as to how your categories should be configured so the following are guidelines to assist you when embarking upon the configuration process.
SupportDesk offers the following category options as standard:
| | |
| --- | --- |
| Super Type | This optional level of categorisation can sit above Type in order to create further ticket definition. It can be useful if you wish to manage Tickets and Requests within a single folder: it allows you to generate unique workflows for a Ticket and for a Request, without having to switch folders. |
| Type | This can define the nature of the ticket and will be based upon the areas of your business that you support (e.g. Software/Hardware/Fault/Query etc.) |
| Sub Type | The child of Type, this provides further detail (e.g. Type = Hardware, Sub Type = Printer) |
| Status | Whether a ticket is Open, Closed, On Hold etc. |
| Impact | Signifies the impact the ticket has on the organisation and corresponds with company SLAs. The impact and urgency model can be configured within SupportDesk when using SLA in conjunction with Urgency. This enables Priorities to be calculated automatically upon selection of the two parent categories (consultancy will be required for creating the Impact and Urgency matrix). |
| Urgency | This signifies how quickly the ticket needs to be resolved in order to have minimum impact on the business. |
| Priority | If a ticket is Critical, Medium, Long Term etc. – the selection of Priority in SupportDesk can automatically generate Response, Warning and Action dates. |
| Analysis | Useful for recording extra information upon closure of a ticket, such as noting that a Workaround has been put in place or if there was No Fault Found etc. |
 
Example of categories on a Ticket: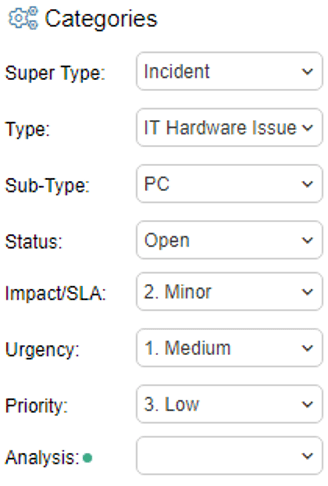 Categories are managed in SupportDesk's Service Level Management area (Settings > Service Level Management):

The maintenance screens for all categories share many of the same settings. Any differences will be highlighted in the section for that particular category. Any Category can be parented by another, such as Status by Super-Type etc… You can filter categories by Folder and you also can search for individual categories with the search box.