Current E-mail read functionality within SupportDesk allows either a manual read of mail from a designated mailbox or a background read. Both functions attempt to read emails in accordance with the templates that have been set in the E-Mail forms. The manual mail read gives the user the option to reject the mail before it is translated into a Ticket.
Selective Mail Read extends this functionality and allows the viewing of the designated 'inbox', whether IMAP, MAPI or POP3: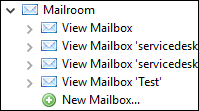 Use the View Mailbox option to view the contents of the mailbox associated with this SupportDesk client. It has to be remembered that when using MAPI, most SupportDesk clients will not make use of the mail read – this functionality will be customised on one designated client that has a profile associated to the mailbox used for Support mails. If a POP/IMAP mailbox is being used for incoming Support mails, all SupportDesk clients can be associated with the same mailbox.
On selecting the View Mailbox option, SupportDesk will read the appropriate inbox and then display the contents:

Some of the mail items are already highlighted. This is determined by the subject containing a match with one of the Mail Form templates that exist, or there being a mail reference delimiter — default '/' in the mail subject.
You can individually select or deselect messages or use CTRL + click to select multiple messages that are to be read by SupportDesk.
Mail Menu – Read Selected
When you select this option, SupportDesk reads the selected mails and displays the Ticket form. This shows the details created automatically and allows extra maintenance of the Ticket in the same way as for any mail read.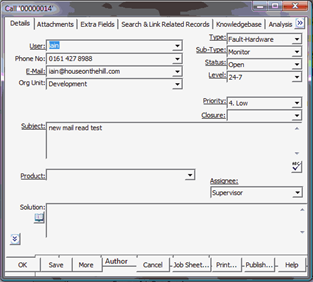 After each mail has been read, you can choose to delete it from the inbox.
Checking that mail read is running
On the machine on which the Email service is running the application will create a simple text file called mailread.txt after each mail read cycle (every 1 minute). This will contain confirmation of connection and a summary of the last mail read cycle. This file should be the first check if it appears mail read has stopped.
Keeping mail read running
Experience has shown that external factors on a system such as Database backups, network glitches or can impact the mail read and halt the function. For this reason, we always advise the addition on a Windows scheduled task that runs a command file which stops and restarts the mail read service.
The command file should contain the lines :

net stop "SupportDesk Email Monitor"

net start "SupportDesk Email Monitor"

To improve the chances of continued service we recommend that this be scheduled to run every 4 hours.