Click the links to the topics outlined below to learn more information:
Managing Organisations
Organisations may be external companies that you support containing individual internal users. Set them up by entering details, or importing them as CSV files.
If you are importing your Organisations via CSV load, please consult the Importing Organisations Guide. If you are adding them manually, please follow the guidelines below:
If you wish to enter your Organisations, this is done via the Your Company drop-down menu, seen below: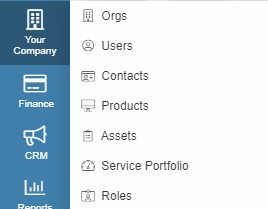 Clicking on Orgs and "Add New Org

" will bring up the details screen in which you can create your new Organisations record. There are numerous fields in which you can add as much or as little data as is required. Once entered and saved, you may wish to have your Customers associated with the Organisation you entered.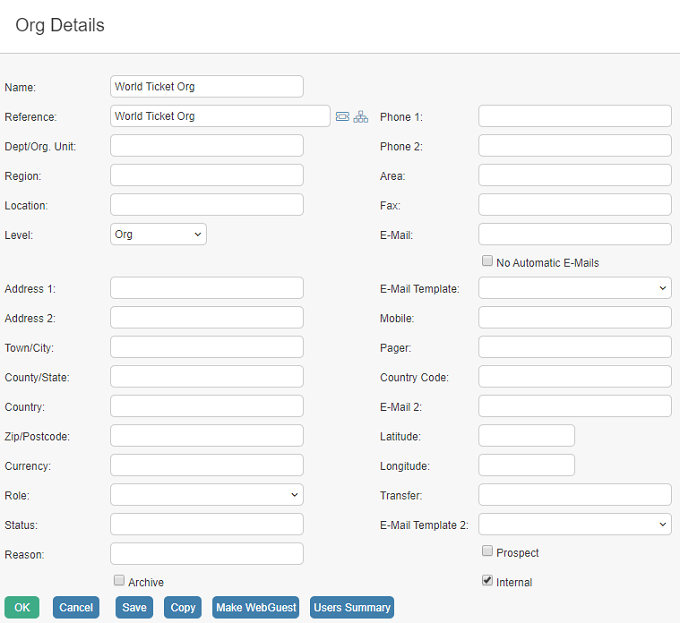 To do the latter, first create and save your Organisation with the name of the company. Then, via Your Company > Customers, select the Organisation you wish to associate with them from the Orgs drop-down. Click OK to save. The Customer (User) will now be linked to the Organisation.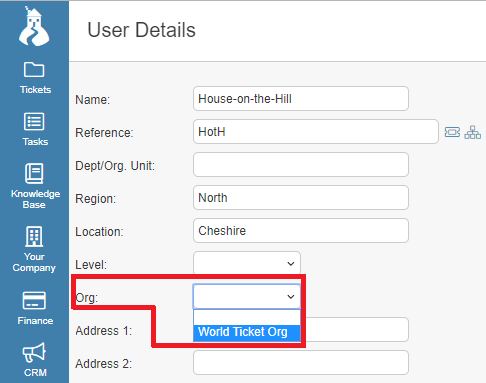 Learn more about Customers (Users) here.
Importing Organisations
HotH has the ability to load external Organisation data files directly into the databases. You can therefore download data from any existing databases and populate the HotH.
In addition, HotH also has the ability to export your Organisation data from the HotH database to a CSV file, which you can learn more about on the Exporting Organisations Guide.
The files to be imported must be flat files of comma-separated values. Each line in the text file represents a HotH record of a particular type. The first characters in each line indicate the type of record to be loaded. You should also note that special rules apply to some fields, please take advice from Support before loading new data type. You can use Import to execute a SQL string, but again please take advice from Support before doing this.
Note: Tickets and Notes are loaded into the current Ticket Folder. Any Organisations referenced in the Tickets should belong to the current Folder. HotH does not make these checks.
How to import the file
In the WebServer, go to Import CSV from Settings.

Select the file to import records and click Import. If there are errors they will be listed. You need to review the errors. The error log is listed to the file suppdesk.err. If there are no errors you can navigate away.
In the Windows interface the Import CSV option is on the Database ribbon tab/menu. You need to navigate to where the import file is located.
Import Format
Excel column headings are supplied below to assist. You do not need to supply data for every field, just enter those you need. (Though there are some validation rules, these are not documented here.)
Dates should be entered as DD/MM/YYYY for UK format and MM/DD/YYYY if US format is in use.
Organisation Record – Type C
A
Code
"C"
B
Reference
Up to 16 characters, mandatory and unique (The Customer must not currently exist).
C
Name
Up to 120 characters, mandatory
D
Address Line 1
Up to 50 characters
E
Address Line 2
Up to 50 characters
F
Address Line 3
Up to 50 characters
G
Address Line 4
Up to 50 characters
H
Address Line 5
Up to 50 characters
I
Post Code
Up to 16 characters
J
Phone No 1
Up to 40 characters
K
Creation Date
10 characters
If omitted, today's date is used.
L
Account Manager
Up to 40 characters
M
Narrative
Up to 2000 characters
N
Fax No
Up to 40 characters
O
Phone No 2
Up to 40 characters
P
E-Mail
Up to 120 characters
Q
Modem
Up to 40 characters
R
Maintenance Expiry Date
10 characters
S
Service Level
Up to 32 characters
T
Market
20 characters
U
Department
Up to 120 characters
V
Web Flag
Numeric
W
Archive Flag
Numeric (1=Yes, 0=No)
X
Charging Flag
Numeric
Y
News
Up to 400 characters
Z
Fee
10 numeric characters, 2 decimal places
AA
Folders
A series of numbers delimited by | to note the Folders in which the customer can be used.
AB-AF
Extra Fields (pre 2002)
5 fields of up to 25 characters each
AG
Internal
1=Yes, 0=No
AH
Type
Up to 16 characters
AI
Calls Left
Numeric
AJ
Rate per Hour
10 numeric characters, 2 decimal places
AJ
Rate per Day
10 numeric characters, 2 decimal places
AL
Contract No
Up to 25 characters
AM
Website
Up to 120 characters
AN
System ID
Numeric – leave blank for new records
AO-AP
 
Leave blank
AQ
TITLE
Up to 60 characters
AR
Location
Up to 40 characters
AS
Serial No
Up to 120 characters
AT
Currency
Up to 16 characters
AU
Assignee ID
Numeric
AV-AX
 
Leave blank
AY
Country Code
Up to 40 characters
AZ
Customer Level
Numeric, 1=ORG
BA
Organization
Numeric Code
BB
Pager
Up to 120 characters
BC
Email 2
Up to 120 characters
BD
Reason
Up to 250 characters
BE
Status
Numeric
BF
Status
Up to 32 characters
BG
Latitude
Numeric
BH
Longitude
Numeric
BI
Role
Up to 40 characters
Exporting Organisations
You can export the current Organisation databases into a named file. The output records have the same layout as the corresponding Import records. This is useful if you want to create an import file; create a 'dummy' record, populating the required fields with discernible text, such as REF in a reference field. The exported data can then be used as a template for the import layout.
How to Export Customers
To export data, show the Organisation records in the summary and filter the list as required.
In the WebServer, navigate to Your Company > Orgs, then use the Export option in the Summary Options navigation bar; this will then offer the option to View the output. Now, you can open or save the file.