Access the Service Details page by selecting one of the Services, or by creating a new Service from the Service Summary. The interaction of Services with other areas of SupportDesk is then described. Functionality described here is also available in the Windows UI of SupportDesk. The main maintenance form for the Service Portfolio is shown below with explanations of the use of the fields and settings.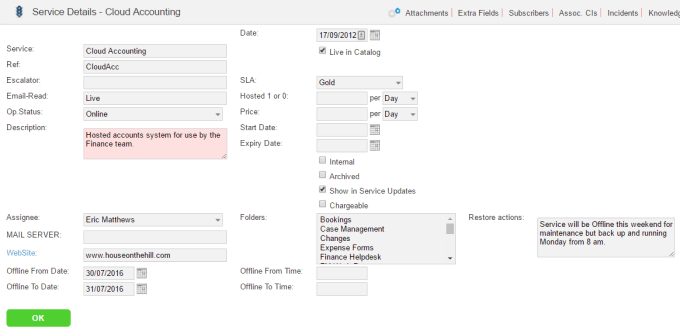 Service Details Form Field Descriptions
Field
Description
Service
A meaningful name for the service.
Status
This describes the Operational Status of the Service and should ideally be one of three values — 'Online', 'Offline' and 'Impacted'. SupportDesk will respond to values by displaying the service name in 'traffic light' colouring at the main window and in the Service Updates panel:
Online =

Green


Offline =

Red


Impacted =

Yellow

Note: If you have setup parent/child relationships between services and assets, setting a child inventory item as impacted or offline will result in the parent service being marked as Impacted automatically.
Description
A description of the Service.
Date
Indicates when the entry is made.
Live in Catalog
Services that do not have this ticked are not yet 'live' in the Service Catalog. Only 'live' Services may be selected in the Service drop-down in a ticket form.
SLA
Automate the selection of the impact on a Ticket for this service. It is generally advisable to leave this blank.
Hosted per_
May be used to record the internal cost of providing the service.
Price per _
May be used to record the external price of providing the service.
Start Date
May be used to record the start date of the service.
Expiry Date
May be used to record the end date of the service (if applicable).
Internal

If set to Internal, this service will not appear in the WebGuest Self-Service interface.
Archived
Once set, the Service will be archived and removed from the live table.
Show in Service Updates

Many services may be created but only those that have this box ticked will show in the Service Updates panel.
Assignee

When this service is selected, tickets are automatically assigned to the login referenced here.
Website
A Website URL that should ideally point to information about the service.
Folders
Dictates the Folders where the service will be available on the Ticket form.