Details Tab
By clicking on the (Add) New Ticket button, the ticket logging screen appears. The screen will be unique to your organisation, and will include your specifically configured workflow and terminology. The following shows an example ticket screen, and the functionality that you may be utilising. Click the image to expand.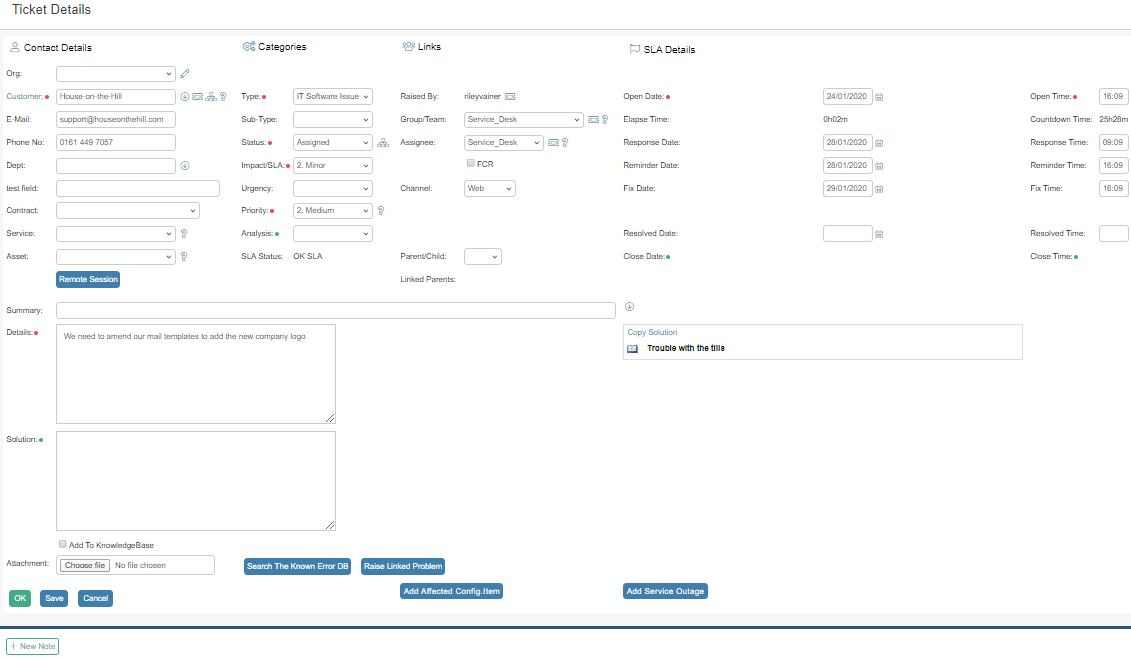 | | |
| --- | --- |
| Customer | Selecting the Customer auto-populates their contact details. Click "abc" icon on the right to switch the field from a drop-down to free text |
| Type/Sub-Type | The Type/Sub-Type specifies what the ticket is about. |
| Status | The status can be selected depending on what stage the ticket is at. |
| Impact/Urgency/Priority | The Impact on the business, and how Urgently the ticket needs to be resolved calculate the ticket's Priority |
| Assignee/Raised By | Select the ticket Assignee from the drop-down. "Raised by" lists whoever is logging the ticket, but can be manually changed. |
| Details | The Details field lets you enter a detailed description of the ticket. |
SLA Details Tab
| | |
| --- | --- |
| Open Date and Time | The Open Date and Time auto-populate when first logging the ticket. |
| Elapse Time | The Elapse Time begins to count down when first logging the ticket. |
| Response/Reminder/Fix Time | The Response and Reminder times are populated automatically when the Priority is calculated. |
If mandatory fields have been set, you will be prompted to complete these if they have been left blank, before you will be able to create the Ticket. Mandatory fields are sometimes marked with a red asterix or colour coded.
Services and Config. Items can be associated with individual customers, so that these fields auto-populate upon selection of Customer, or displays a list of their associated CIs and Services.
When all required fields are completed, click OK or Save and the ticket will be assigned a unique Reference number and put into the work queue.
Linking Tickets
Link tickets together by selecting Link from the More drop-down menu within the ticket: