HouseForms provide an extension of SupportDesk functionality by allowing you to build the forms that you need in your system, be they Dashboards presented at login, forms for Equipment Requests or New Starters, Assets, Tasks or Contracts. Using Drag and Drop features you can quickly build the Form you need targeted to collect just the information required.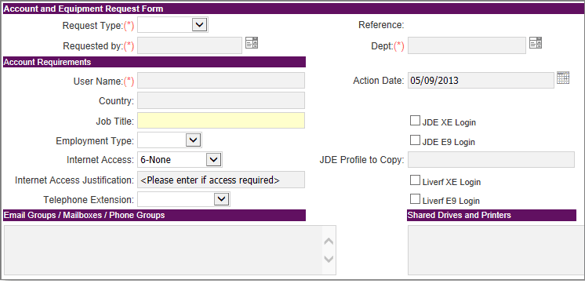 Benefits
SupportDesk is a tremendously flexible tool that allows the capture of a range of information and the processing of that data within user defined workflows. HouseForms allows you to create Forms to act as Dashboards and data collection portals for many types of Request or optimise your Processes. You decide what information you want meaning that jobs get streamlined and are immediately in the system with no need for paperwork. Processing can be made more efficient by tying your Forms in with Workflow Authorisation in which specified users simply respond to voting emails to indicate approval or not.
"Type" specific Forms can be presented for Assets, Tasks and Contracts meaning that you no longer have to use the generic capture form but simply ask for the data that is needed in that circumstance, saving time and effort and ensuring that the correct data is recorded at the right time.
Requirements
To make use of this feature your SupportDesk system must have the HouseForms Module, and the Self Service Portal if Forms are going to be presented to end users to capture their requirements.