By their nature, Task Forms work with the fields that are available on the respective tables in the SupportDesk database.  These fields are shown on the grid to the right of the Form development area. However, it may be that the Form needs to contain fields which are not represented. In this case there are two options:
Where possible, try make use of fields that are available on the native table but are unused in the normal ticket screen. For example, on the ticket table there are several spare text, date and time fields that can be renamed and used.

If all spare fields are already being used, then extra fields can be created for the table to which the Form is associated.  Under the Fields tab, select the "New Extra Field" option.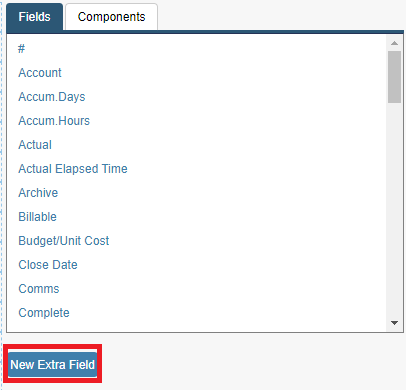 Once the main details of the field have been set there are some formatting options that can be applied:
If a set of selection options are added to the Selection option then these will be shown as a drop down.

When you create an Extra Field for Tasks, you need to select the Activity table so that the new field is prefixed with Activity

If field type Date is set then a date selection will be automatically added next to the field.

If field type checkbox is selected the prompt will show in Checkbox format.

If largetext is selected from the type then this should be accompanied by <TEXTAREA> in the Format field.
This in itself does not format the field on the Form. If required this will need to be done in the Styles tab and the field size can be set – the example below shows how the subject (F10), and solution (F43) fields are made larger.
}
#F10, #F43 {
width: 78em;
border-radius:0;
padding:10px;
border:1px solid #ccc;
}
textarea#F10, textarea#F43  {
height: 5em;
white-space: pre;
}