The Mailroom is a feature in the SupportDesk browser interface that allows the system to interrogate a single, specified mailbox, display the mails in it, and then create Tickets from selected mails. It is available to helpdesk agents to interrogate the Mailroom mailbox that has been setup for the system.
Setup
Mailroom Setup is accessible to Supervisor logins only. It can be accessed from the Messages Menu or from the Summary Options in the Mailroom Summary.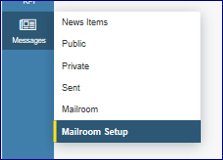 You are then presented with a form into which the key details of the mailbox can be entered.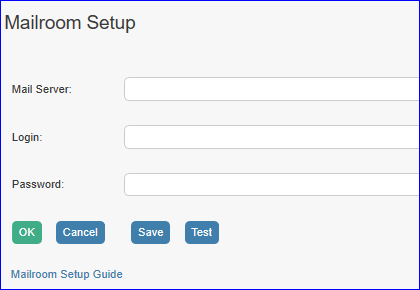 Common formats used for the Mail Server are :
For Office 365, secure POP – pops:outlook.office365.com or pops:outlook.office365.com:995
For Office 365, secure IMAP – imaps:outlook.office365:993
The login should be the full email address of the mailbox to be read.
For Gmail – the server should be pops:pop.gmail.com:995
The login must be set in the format recent:<account>@gmail.com, where <account> is your mailbox
Use the Test button to check connection. The message "Connection to mail server successful" is presented if everything is correct. If this message is not shown, then either the settings are incorrect or something in the infrastructure is stopping connection.
Operation
Once the Mailroom mailbox has been set up correctly, select the Mailroom option (Figure 1) from the Messages menu. Use the recycle icon to update and show the mails in the summary.

Click on the mail that you want to add as a Ticket; A summary is shown: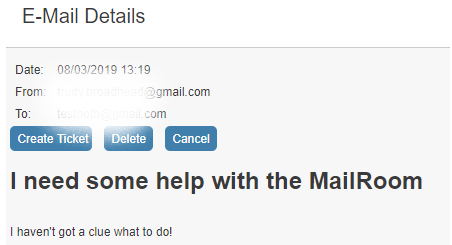 Click on "Create Ticket" will show the summary screen again with the mail that is being converted marked as *** Queued ***
After SupportDesk has read in the mail it is deleted; consequently, when the view of E-mails is refreshed this email will no longer show. The Ticket will be logged within SupportDesk following with the normal lookup employed to match the sender's address with a Customer/User in the system.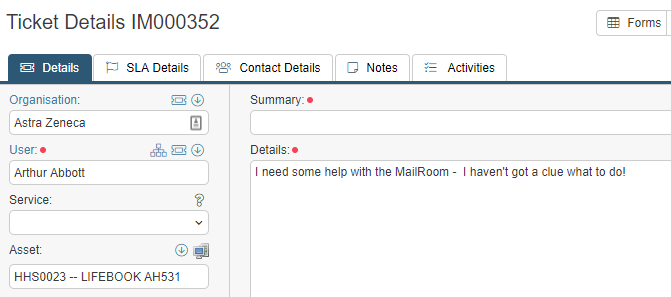 If the mail that is read in has a subject with the configured separator and a valid Ticket reference (e.g.  Ticket Reference/IM000352 I need some help…), then SupportDesk will automatically search for a Ticket with this reference and add the mail as a note to that Ticket.