You must use Mail | Setup & Templates… to declare the servers to be used for sending and receiving mails.
The Windows client can use either MAPI settings or SMTP/POP3 settings. (Use the tick box at the bottom of the E-Mail Configuration form to select MAPI. This setting is applied to all windows client users. In some systems, this will already be ticked for you.)
The WebServer can only send mail directly via the specified SMTP server; it cannot send via a MAPI interface. SMTP/POP3 are the recommended options for email integration.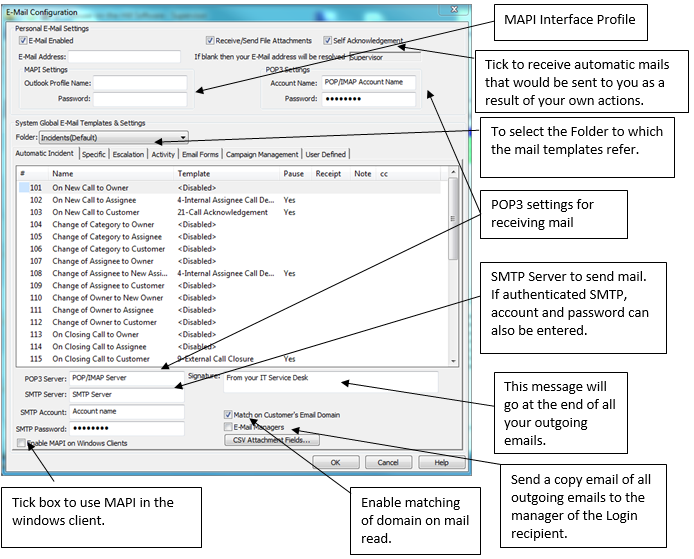 MAPI
In the MAPI Settings, you need to supply the Outlook Profile name (otherwise, the Outlook default will be used). Mail will be sent from the mailbox associated with this Profile. The inbox associated with this Profile will be used when scanning for incoming mail to be converted into a Call. Use the Programs tab on the Properties of Microsoft Internet Explorer to specify the e-mail client in operation.
If you supply an Outlook profile, the Windows client will use this in preference to any POP3/SMTP settings if the Enable MAPI on Windows Clients box is ticked.
SMTP/POP3
To send mail, you must specify the SMTP Server Name. Please check with your IT Manager if the SMTP server is authenticated and needs a password.
The WebServer can only send mails using SMTP; a separate SMTP server may be specified for the WebServer interface. To set this, logon to the Web UI with supervisor rights and go to Settings, WebServer, where you will see the option:

Enter the SMTP details that the WebServer is going to use. You are not required to enter an SMTP server here, you only need to complete these details if the WebServer is going to use a different SMTP server to the Windows client. If the WebServer is going to use the same SMTP server as the Windows client, leave these fields blank. The shared SMTP server details can be entered via the Windows client, as in Figure 1 above.
To receive mail, you need to specify the POP3/IMAP Server Name and Account Name (and any associated Password) in the SupportDesk windows client software.