All work on Dashboard Forms must be carried out through the web UI.  Prior to creating the physical form there should be some planning to decide how the Dashboard should look and function and who is going to see the Dashboard upon logging in. It is also a good idea to familiarise yourself with the privilege rights of Login types (from Supervisor to WebGuest), so that you can identify what customers will be able to do and see.
The Dashboard Designer is accessed by Supervisors via Settings > Forms, then Form Type "Dashboard". If Dashboards have already been created, they will appear in a list and can be edited by clicking into the record:

To create a new Dashboard, click the "

" icon and the drag and drop screen will appear: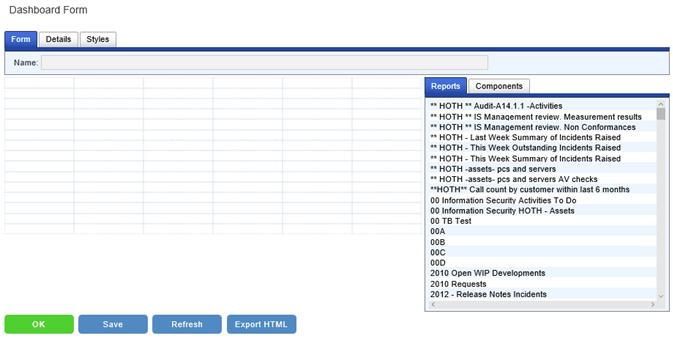 In order to begin building a new Dashboard, make selections from the right hand side of the screen, and drag the selection across to the table on the left. The right-hand list is split into 2 columns: Reports and Components.
The Reports column shows all the public reports that exist in the QuickReport Designer. If a new report is required in this column, this must first be created in the QuickReport Designer.
The Components column refers to buttons and widgets that have been created using html and saved as Component Forms. Creating Component forms is covered in the Dashboard Component Forms Guide.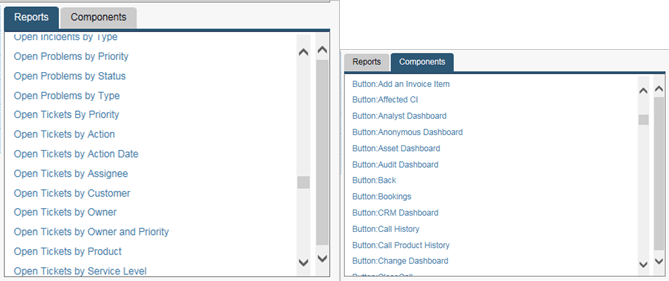 Enter the Dashboard name in the Name field, then begin to drag the Reports and Components across to the left hand table. A preview of the Dashboard will appear at the bottom of the screen as you drag selections across: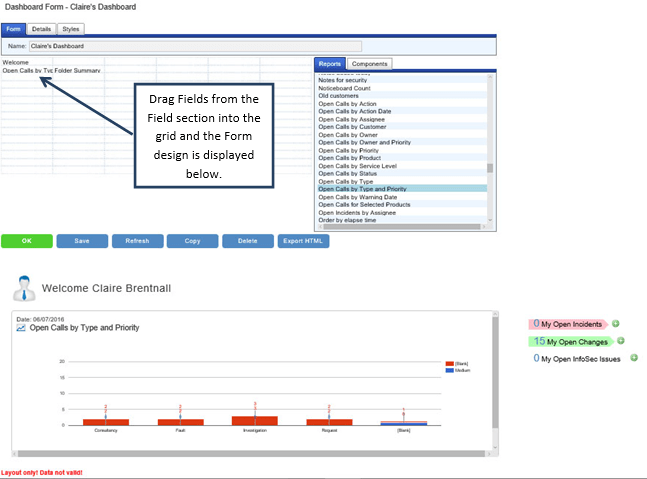 The Dashboard form designer also contains Details and Styles tabs, which you can learn about more from the Additional Tabs Guide.
Click Save to save the form as you create. Click OK to save and exit the designer.