Process Specific QuickCalls
Unique QuickCalls (also called Service Requests) can be created for multiple service desk processes. Supervisor logins can create new QuickCall templates for each service desk process by first of all selecting the process from the drop-down in the toolbar, for example, the Tickets folder: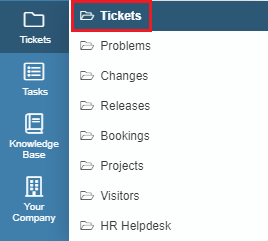 Then from within the Tickets folder, expanding the Summary Options drop-down, and selecting QuickCalls:

By selecting QuickCalls, Supervisors will either be presented with an empty queue, or a list of existing QuickCalls for that folder. To create a new QuickCall, select the "Add New QuickCall

" button.
A ticket screen will then appear, from which to build the QuickCall template. If any fields are already populated on the template when the Add New QuickCall button is clicked, this means that these are New Ticket Defaults set on the folder itself. These New Ticket Defaults can be managed via Settings > Processes/Folders: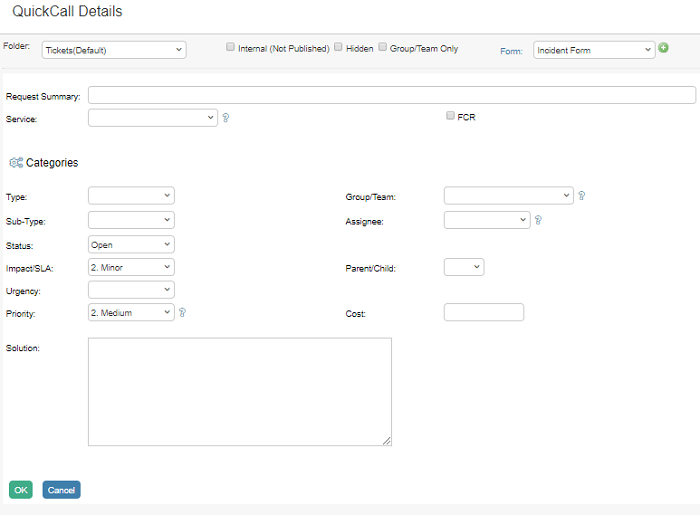 Supervisors can begin to build the QuickCall by completing fields that are standard when this type of Ticket is logged. For example, if an Equipment Request is always assigned to the Request Team with a 'Minor' SLA, then this can be set on the QuickCall so that when an Equipment Request is logged, the ticket automatically retains this detail. By entering the name of the QuickCall into the Ticket Summary field, then this is how the QuickCall will display within the QuickCall drop-down for Customers. Click OK to save: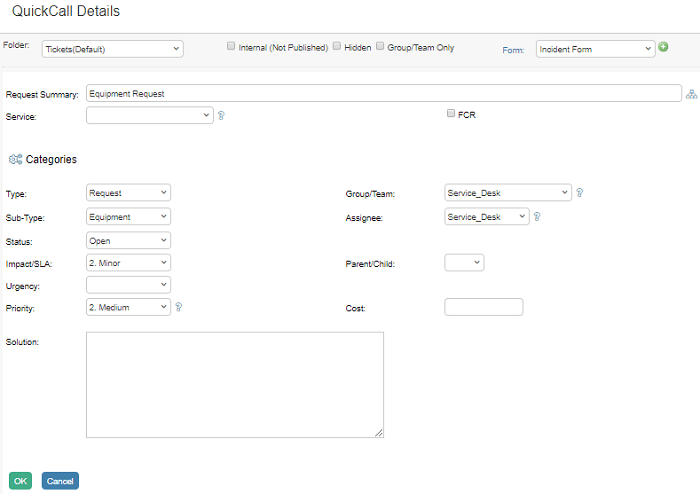 Associate Forms with QuickCalls
If a specific Form has been created in the Forms Designer, then this too can be associated with the QuickCall, and will appear in the Form drop-down:

Make QuickCalls visible to WebGuests
If the Internal tick-box is selected, then the QuickCall will be hidden from WebGuests. If it is left deselected, then the QuickCall will appear in the QuickCall drop-down for WebGuests:

Add Child Tasks to QuickCalls
There is also the ability to add Tasks/Activities to QuickCalls to be auto generated when a ticket is logged using a QuickCall template. This can be done at the bottom of the screen when creating the QuickCall, using the New Task button. Once saved, the logging of this type of ticket using this template will auto-generate these Tasks: