"Type" specific Forms can be presented for Assets, meaning that you no longer have to use the generic capture form but simply ask for the data that is needed in that circumstance, saving time and effort and ensuring that the correct data is recorded at the right time.
Requirements
To make use of this feature your SupportDesk system must have the HouseForms Module, and the Self Service Portal if Forms are going to be presented to end users to capture their requirements.
Operation
All work on Forms must be carried out through the web UI.  Prior to creating the physical form there should be planning to decide what the form is to be used for and how that may impact SupportDesk.  Unless the form is to be used with existing SupportDesk fields then extra fields must be added through use of the "Data Dictionary-Extra Fields" function.
The form maintenance screens are accessed from Settings > Forms & Dashboards.
To access Asset forms, select Inventory/Asset from the Form Type drop-down menu on the Forms & Dashboards page.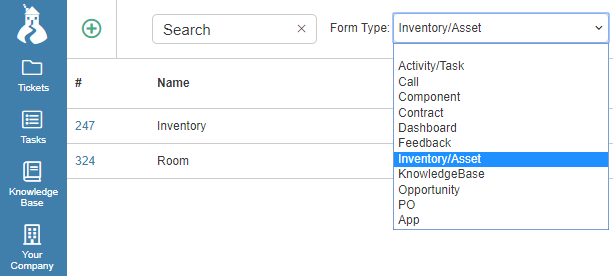 The data that needs to be collected for an Asset Item such as a PC, is very different to that for say a mobile phone. Again specific Forms can be built that are pivoted on the Asset Item Type. Once opened, any existing forms are displayed and can be edited or new ones created by clicking the "Add

" button.