One of the most important aspects of the Service Portfolio is to set the subscribers. This is managed through the link at the top right of the Service Details screen under More > Subscribers: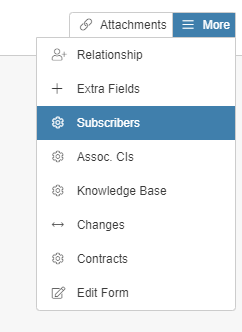 You can add Subscribers individually by selecting from the drop-down list and clicking Add.

You can also add whole Departments, Organisations or Distribution Groups by clicking the Dept/Org. Units tab:

Once Users are added as Subscribers to a Service, providing that service has the 'Show in Service Updates' tick box selected, then the User will be able to view the operational status of that service via the Service Updates box on their Dashboard.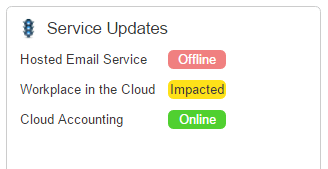 Automatically Emailing Service Subscribers
If the operational status of a Service changes, it is possible to automatically email an update to Service subscribers. This requires the 'Service Details to Subscribers' email template to be enabled. This can be edited and enabled by Supervisors via Settings > Email & Letter Templates. Service Assignees can also be automatically notified if a Service operational status changes using the 'Service Details to Assignee' template.