House-on-the-Hill offers software preview of upcoming SupportDesk release
The next major release of House-on-the-Hill's market leading service management solution, SupportDesk 2017 is due for launch next year, and House-on-the-Hill has recently made a preview available for users to try via this link, for free!
SupportDesk 2017 will boast new dashboard functions, Kanban feature, improved search and call queue linking capabilities, plus so much more.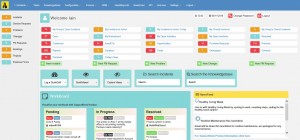 Since 1993, House-on-the-Hill has been developing service management software solutions to meet the ever expanding requirements of the global service desk market. A recent trend in the challenges faced by organisations has been to create a central repository for all information, that can be easily accessed by all relevant parties. This means moving away from email conversations with details getting lost in threads and towards a focal point for the recording, updating and analyses of all service desk actions.
With service desk software tools, this is made possible, and SupportDesk 2017 will focus on the streamlined management and detailed autditing of all tasks and correspondence within tickets. With the ability to customise individual login privileges, all relevant users are able to access certain information based on their role on the service desk, and customisable user dashboards allow for necessary information to be made visible upon logging in.
If you would like to take a look around SupportDesk 2017, log in to the free trial here.