Recent advancements in SupportDesk FOI have streamlined FOI Request Management processes even further. Here's how…
SupportDesk FOI is the Freedom of Information management solution designed to assist NHS, councils, local government and other public sector organisations in the proficient management and detailed outcome tracking of FOI requests. With MOJ recommended templates built-in as standard, SupportDesk FOI ensures that requests are progressed in compliance with government legislation.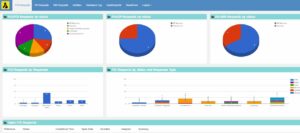 Links can be included on company websites to direct members of the public to custom request logging forms for submitting FOI, Data Protection and Environmental Information Regulations requests.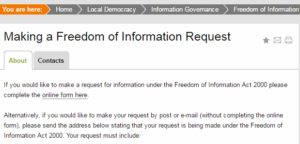 Completed forms then get entered into the specific workflow based on the request type, and from submission to completion, progress can be audited, monitored and analysed.
Once the end user has submitted their request, SupportDesk FOI can email an automatic reply to them, or correspondence can be initiated manually once the request is being processed. The application also allows the user to be automatically directed to another part of your website.
Within SupportDesk FOI, new requests are displayed on dashboard indicators as FOI Requests raised today and Requests that have been received but are waiting assessment. This makes it instantly clear as to which requests require attention, and drill down links to request queues enable the handling process to begin.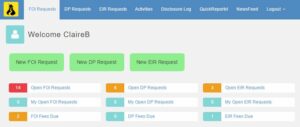 Deadline dates are automatically calculated along with a configurable warning date. The application can issue alerts if the request goes beyond this warning date. Completion of the request can trigger an automated email to the requestor. SupportDesk FOI also ships with a series of pre-built letter templates for key elements of the FOI handling process. These can be modified as required and are then available from the request handling screen.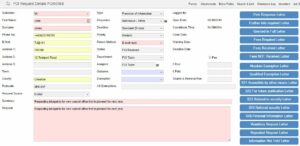 Simply clicking on the blue button will generate the letter ready to print, copying across specific details from the Request.
The final part of the process is to add the request to the Disclosure Log by ticking the "Add to Disclosure Log" tick option at the bottom of the request screen. On pressing OK the DC Log entry is shown and can be edited to remove personal information and validated. A link to the Disclosure log can also be made available on your website allowing the public to browse and search.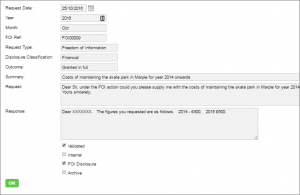 Upon completion the FOI manager can simply return to their dashboard and quickly get a view of "Open" requests and their current status.
This shows all of the open requests, the status of each, the assignee and elapsed time. Choosing different fields for the view can switch the elapse time to count down time if required.