SLA Management Software
SLA Management helps you to supply the highest level of support to customers, and can be used to analyse and consistently improve the service you provide. This blog item aims to demonstrate the ways in which you can ensure compliance with customer and supplier service level agreements, and enhance customer satisfaction, using SupportDesk's advanced SLA management capabilities.
Setting Clear Service Level Agreements
Service Level Agreements are an understanding between your business and customer/supplier base, and define the amount of time in which certain issues and requests are going to be responded to and resolved. SLAs can be based on various parameters, such as critical versus non-critical issues, Gold, Silver or Bronze Customers, or whether the call is an Incident or a Request. Making your SLAs clear to customers and suppliers is a crucial part of managing expectations and setting realistic service management timescales.
Multiple-Tier SLAs
Once your SLA set is decided upon, you can begin building this into your SLA management software tool. SLA management within SupportDesk enables you to set 3 different breach stages for each SLA. This enables a unique Response, Warning and Action time to be set, so for example, a call with a Critial SLA could have a very short response and action time, compared to a call with a Long Term SLA: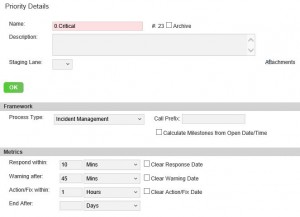 The target dates and times are then calculated automatically, if a Critical Priority call is logged, taking into account working hours and bank holidays. This means that breaches do not occur outside of working hours.
Impact and Urgency Matrix
It may be that the Response, Warning and Action times of a call need to be calculated based on certain situational factors, such as the Impact and Urgency of the issue. In this instance, SupportDesk has the facility for an Impact and Urgency matrix to be created, so that the Priority of the call can be determined at the point of logging, based on this calculation. This provides flexibility for the Service Level Management process, meaning that agents can determine an appropriate time-frame for resolving issues based on an analysis of the unique properties of the call. For example, the Impact of an Incident to the business overall may be Minor, but the Urgency, because perhaps the issue has been raised by the Managing Director, may be High:

Automatic Breach Alerts
Emails and alerts are automatically sent to call assignees before action date breaches occur, in order to warn of approaching deadlines. These messages can also be sent to managers and any other required parties. On the occurence that calls do breach response or action dates, emails and alerts are also sent automatically to assignees, managers and required parties, so that urgent work can be performed, or calls can be manually re-assigned and re-routed: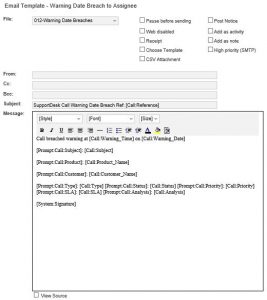 Colour coding and symbols within the call work queue display the Priority level, and indicate which calls have breached their SLA. This gives agents an instant view of which calls require immediate attention: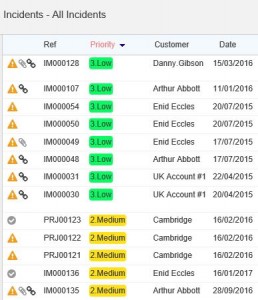 Automatic Escalations
Reassignment and re-routing of calls can also be automated, and SupportDesk has the facility to automatically escalate calls based on SLA parameters. Settings options on the SLA management screen allow for the call to be escalated to a higher priority, for specific parties or users to be notified, and for the call to be automatically reassigned after warning and action date breaches:

Reporting and Analysing
SupportDesk's KPI Monitor enables service desk managers to monitor in real-time which calls have breached SLA, and which haven't. The KPI dashboard automatically refreshes every minute, in order to display the most recent results. The view can be sorted by various parameters, such as Priority or Assignee, or simply by Within SLA and Outside SLA: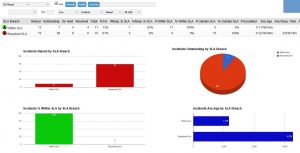 Unique SLAs
SLAs will be unique to each organisation, each business area managed within that organisation, and even to each service management process. Therefore, it is important to have a service level management software solution that can be moulded and shaped to fit your exact requirements.
Discover how SupportDesk can help you efficiently and pro-actively manage your SLAs by speaking to a HotH consultant today!