SITS16 – The Service Desk and IT Support Show 2016
SITS16 is fast approaching! House-on-the-Hill will be at Stand 315 exhibiting the latest exciting SupportDesk features and functionality.
Visiting the show? Get in touch to arrange your demo in advance!
Make sure you visit the HotH team at stand 315 to see SupportDesk in action, including…
NEW SupportDesk Risk Management Solution
The latest SupportDesk service desk solution from House-on-the-Hill Software: SupportDesk for Risk Management. This advanced solution enables organisations to maintain a Risk and Control Register, in order to pro-actively identify Risk Level based on business Activities. SupportDesk for Risk Management can also record risk related "Tasks" which reference this register and pull through appropriate Control information. This streamlines the handling of Tasks and ensures that all necessary Risk details are collated.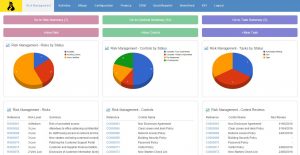 Multimedia Ticketing
Add screenshots and images directly to notes using copy and paste to display a fuller, more visual audit trail of correspondence. This added level of visualisation provides in-depth call communications for agents working on any service desk process and business area.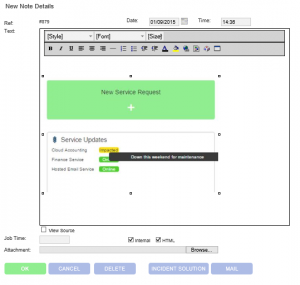 Streamlined Ticket Linking
Linking records in SupportDesk has been streamlined with the ability to assign 'Parent/Child' definitions directly from tickets. If Parent is selected, this call will be entered into a Parent list. If the record is selected as a Child, a dropdown list of the possible Parent records will then be displayed, so that the relevant Parent record can simply be selected to automatically create the link.
WebGuest Workflow Recognition
SupportDesk recognises the Customer logging a call via the self-service portal, and can now trigger a unique workflow and Assignee automatically, based on that Customer. This is a great benefit where there are specific agents or groups providing first responses to calls logged by certain Customers, or if there is an 'expert' agent dealing with Customer calls. SupportDesk also enables a default Status to be automatically set on calls logged by Customers. This helps instant visualisation and filtering of calls, as well as being a great way of monitoring KPIs in the highest detail.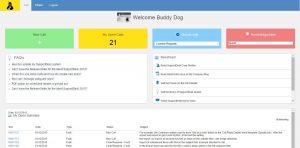 Look out for upcoming HotH @ SITS16 news on Twitter!