Get a Clearer View
with SupportDesk Service Dashboards
Service Dashboard functionality enables Managers of specific service desk processes, support groups or business areas to have a graphical dashboard displaying their area of the service desk. Dashboards display at-a-glance views of the current situation on the service desk, as is relevant to the role of the user logging in.
Take a look at some of the Service Dashboard options available with SupportDesk:
Service Dashboard – by Process: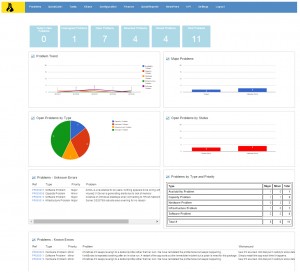 Unique dashboards are available for all process managers including Incident Managers, Change Managers, and any service desk process managed within SupportDesk. For example, a unique dashboard is available for the Problem Manager, who can instantly view the Problem dashboard upon logging in to SupportDesk, with an overview of logged Problems visible via graphical reports. The Problem Manager can drill down into individual problem records using hyperlinks on the dashboard.
Asset Manager's Dashboard: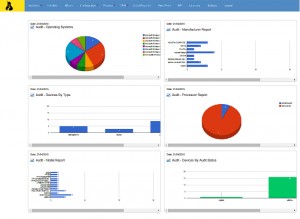 An Audit dashboard for displaying multiple audit reports gives a complete overview of devices, operating systems, asset models, etc. presently on the network with audit statuses. This is a useful feature for Asset Management teams.
KPI Dashboard: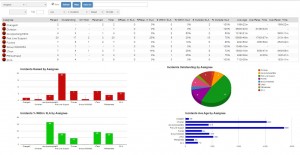 For Service Desk Managers, Key Performance Indicators can be viewed at-a-glance in real-time using the KPI Monitor dashboard. The parameters can be edited by managers using the dropdowns on the KPI Monitor screen. This area of SupportDesk is often used by managers to instantly view the performance of individual Assignees, to see how many calls support agents have outstanding, how many calls have been resolved within SLA, how many have been raised, and the average age of calls.
Service Dashboard – by Login Privilege:
Dashboards can be created to display as much or as little data as is required, depending on the login privileges of the user accessing the helpdesk:
For your Customers (end users), create a user-friendly, simple service dashboard for call-logging, own-call tracking and viewing FAQs.
For Support teams, create dashboards for call logging and processing calls and viewing graphical reports of their own calls, and calls belonging to their team.
For service desk Supervisors, create dashboards for call processing, performance tracking, business management and service desk administration.
Want to find out more about SupportDesk's service dashboards? Get in touch
Take a free SupportDesk Trial
Find out about SupportDesk SaaS + On-Site Pricing